Hart of Dixie Review: The Pie & Alcohol Cure
by Kate Brooks at .
After a tragic and frustrating episode last week, "We Are Never Ever Getting Back Together" was the Hart of Dixie hour where Zoe tried to get over her breakup with Wade.
This wasn't anything special. I didn't hate it, but it wasn't my favorite. I think it had the right amount of dramatic, especially after these past few episodes.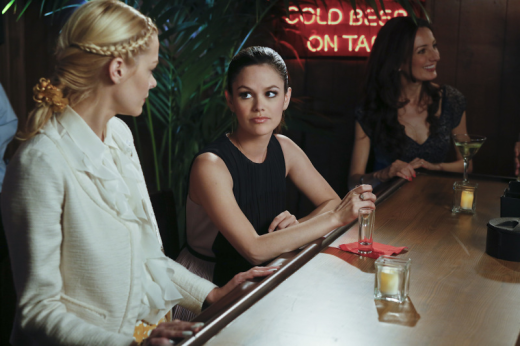 It was nice to see Bluebell having Zoe's back. It makes me think back to Hart of Dixie Season 1 when Zoe was public enemy #1 and it reminded me how far she has come. It's something that I really love seeing and the fact that Brick said "she had patients waiting" without a hint of resentment was great too.

Hart of Dixie really has come a long way and so have the characters.

I'm glad that Wade confessed that he MAJORLY screwed up by cheating on "the greatest girl" he ever had. I completely agree. Zoe and Wade were so completely different that they were really good for each other. Zoe is straight edge while Wade is a free spirit. It's unfortunate that everything they went through together is tainted now.

Elsewhere, Rose returned! And so did McKayla Maroney (Tonya). It was nice to see her continuing her guest spots. Unfortunately, the director or script supervisor needed to sit down with McKayla and give her some beats in her scene with Rachel/Zoe. She ran through her lines too quickly and needed some pauses/breathes in there. Though, McKayla's last scene where she was yelling was well done. Keep working at it girl, you'll get it.

I really miss Rose. Her young character  is Zoe's greatest friend. With Rose, Zoe seems to be more honest and willing to open up about her feelings than anyone else. Yes, I'm including Lavon in there. I am glad to know that Rose is still on set for the last couple of episode this season.

My favorite scene of the night was the one between Lemon and Zoe. I want them to be friends so bad it hurts. For the first time this whole series they sat down and discussed what they have in common. As a critic and fan, I didn't realize just how much they are alike. Parents who "abandoned" them, lovers that screwed them over, broken hearts, issues and all.

Please, give us more Lemon and Zoe. It was one of my favorite moments all of Hart of Dixie Season 2.

Overall, this installment was average. It's refreshing to see that they're going away from the dark/emotional arcs and back to the comedy. The lightness of this season is what made it so great in the first place.

Tags: Hart of Dixie, Reviews
From Around the Web