NCIS: Los Angeles Review: The Assassin Twist
by Carla Day at .
After last Tuesday's disastrous introduction to Team Red, I didn't have high expectations for "Red, Part II." I hoped it would focus a little more on the new team members and really wanted to see the action that makes NCIS: Los Angeles stand out from other procedurals.
The conclusion to the two-part NCIS: Red backdoor pilot succeeded in providing both, but neither made me excited for the potential new series.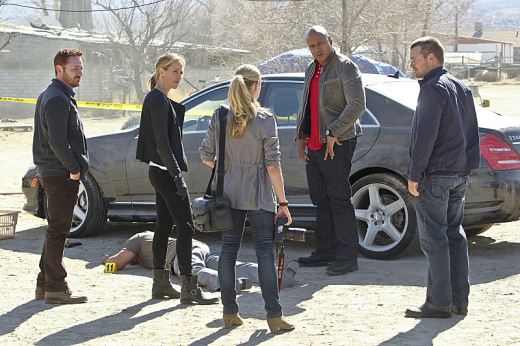 I've been fans of both Kim Raver (Paris) and John Corbett (Roy) on other shows, but their characters were too bland here. I've written before that Raver exudes so much chemistry, she could have a relationship with a wall and it would be believable. I missed that in her performance here, but that's because of the character not her. Paris is awkward. Hetty was pushing for a relationship between her and Callen, but their interactions felt forced rather than natural. 

And, the contentious relationship between Paris and Roy didn't pique my interest in them, instead I was turned off. Though, I did appreciate that Paris' preference for head shots and what happened between her and Roy on the night he was shot was introduced and connected. With the prevalence of body armor, head shots do make sense. Paris and Roy came to an understanding about working together, but he broke his word immediately. Of course, it saved Paris' life, but what does that mean for their future working relationship?

The rest of the Red Team members didn't make much of an impression on me. The banter between Dave and Claire at the beginning was forced both in the writing and performance. If the show gets picked up for next season, I look forward to seeing how the team develops together and as individual characters. When NCIS: Los Angeles was first on, I didn't care for Kensi at all, but she's now a favorite of mine. I also hated Nell in her first episode and now she's the lovable Nell.

As far as the case, the surprise twist that Spears was not the one killing people was well-written. It was believable that someone with Krause's connections would hire someone to kill Spears once he realized that he had helped a terrorist. Krause may be a criminal, but even he has standards. The investigation went full circle with the reveal that the marine was killed for filming the hot female and not Spears.

She was hired to kill Spears and couldn't have a video showing her in his proximity. That video was evidence that would tie her to his execution. By identifying her unique kill method, NCIS was able to attribute over a hundred other killings to her. Plus, Spears was shot and killed. Not a bad day for the team.

The conclusion to the two-part backdoor Red pilot was an improvement from the introduction. The pacing problems were resolved, the investigation went into high gear, and the characters became slightly more developed. Based on these two hours alone, I'm not sold on this new installment in the NCIS franchise, but because of Raver and Corbett, I'd give the new series a few episodes before I'd dismiss it.

Will you watch NCIS: Red if it airs on CBS next fall? Does the working and/or personal relationship between Paris and Roy interest you? Who was your favorite Red Team member?

Carla Day is a staff writer for TV Fanatic. Follow her on Twitter and on Google+.

Tags: NCIS: Los Angeles, Reviews
From Around the Web