Shawn has always had Gus, but it appears that now Henry has a new bro of his own in Juliet's stepfather Lloyd.
And in true Psych fashion, the bonds were forged south of the border in "No Country For Two Old Men."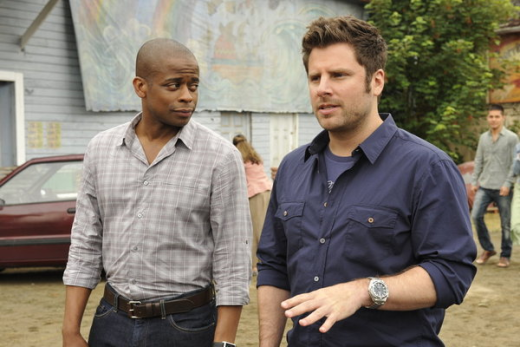 It all started with Shawn and Juliet's house-warming. I am so glad to finally have these two in a legitimate relationship, right down to the future in-laws that aren't particularly sure they'll get along. Leave it to Henry to have expectations about what Juliet's step-dad should be like. Henry almost seemed disappointed that Lloyd wasn't like Frank. By the end of the episode, however, I could have sworn I was looking at the older and very white version of Shawn and Gus in the future.
Funny thing is, I felt like Henry was fulfilling Gus' role as dedicated sidekick and Lloyd nicely filled the role of smart-ass with the propensity to find himself in tight spots much like Shawn.
What really made this episode was that it was very Henry-centric. We don't get that often, making it a real treat - and I think Corbin Bernsen, as always, really rose to the occasion.
Not to mention how well he and Jeffrey Tambor played off of each other. Their little scene at the end after Henry mistakenly believe that Lloyd was dead and started admitting how he hadn't had more fun spending time with someone since he could remember will be a .gif for many moons to come.
I do have to comment on the bit of a letdown I experienced meeting Juliet's parents. That's only because I think Shawn is outdoing her in the celebrity parent department, if only because I didn't recognize her mom.
I mean, come on, Shawn has Corbin Bernsen and Cybil Shepard for parents, while Juliet's birth father is William Shatner (who some might say meets or exceeds Shawn's celebrity parent score alone), plus Jeffrey Tambor for a step-dad. It's not a big deal, but it was something that jumped out at me as I viewed the episode.
Overall, this episode turned into a fun filler to lead us into next week's milestone 100th episode, but it certainly had a lot of other noteworthy moments to which it can lay claim.
Other highlights:
Gus' repeated references to his "family" and how disappointed he was in himself for leaving it.
Gus' confession to Shawn that he wanted to be "I Am Legend" rather then "The Black Von Trapps."
Mexican Lassie. Enough said.
Shawn and Juliet's gaggle of new appliances and housewarming gifts.
Henry going to Mexico.
Mention of Henry's cabbage-patch moves.
It's finally upon us Psych-O's: The 100th episode airs next Wednesday and it seems Psych has a lot in store for us. How will you be counting down to the milestone?

C. Charles is a TV Fanatic Staff Writer. Follow her on Twitter.

Tags: Psych, Reviews
Want more Psych?
Sign up for our daily newsletter and receive the latest tv news delivered to your inbox for free!
More From TV Fanatic
On the latest episode of Satisfaction Neil learns an important lesson about being honest with himself from Adriana while Grace struggles on her new job. Read on for analysis.
Oliver turns down extending his contract as Acting Staff Sergeant until Duncan's dismissal hearing turns unpredictable on Rookie Blue.
On tonight's The Bridge, Marco is made an offer that he initially refuses. Will he agree to go after Fausto?
Things go from bad to worse for Molly on Extant as she tries to escape the prying eyes of the ISEA but chooses the worst place for safety. Read on for a full review.
---