The Big Bang Theory Review: A Real Dinner Party ... No Capes Required
by Carla Day at .
It's not often that The Big Bang Theory gang is together for most of an episode. "The Closet Reconfiguration" was a pleasant surprise with laughs, but also serious moments when everyone was there to help Howard through an emotional situation.
I doubt there is a single person out there, even the most organized, who hasn't thrown stuff in the closet ahead of having guests over to their house. Howard's method of picking up in preparation for the dinner party was a universal, non-geek exclusive situation. Though, Sheldon's love of organizing was not a punishment for bringing his own food, though at least Bernie got reparation for his wrong.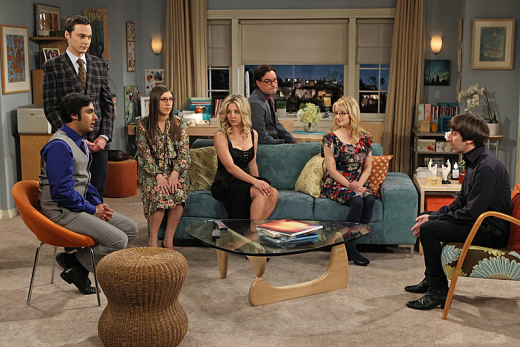 Anyone who has been watching The Big Bang Theory knows that the group cannot keep secrets. They are horrible gossips and Sheldon is the worst. At least, he didn't just blurt of the letter's contents and even after Penny approached him it took a bit of manipulation for him to squeal.

After years of not opening the letter, Howard was rightfully upset that all his friends knew the contents when he didn't want that out in the world. The resolution was touching to see. Yes, the show is a sitcom, but sometimes in order to enjoy the laughs there needs to be some seriousness too. The gang's decision to tell him truths and lies was the perfect way to give Howard resolution to his troubled relationship with his father.

Sheldon's Goonie's mention was funny at first and even after he changed it, but then became a bit overkill after that. This was Howard's moment, not Sheldon's. We'll never know who was telling the truth, but I wouldn't be surprised if several of his friends shared comments from the letter. The result was that Howard's negative and angry image of his father could be at least somewhat lightened.

Going forward, I'd love to see more dinner or cocktail parties with the group instead of coffee table take-out meals. The guys looked slick in their suits and the ladies looked nice all dressed up. It's always funny to see the contrast between Penny and Amy's idea of "dressed up." It would be kinda fun to see Amy dress up in Penny's clothes or get a makeover sometime. It's been awhile since the show's done something like that.

Even with the serious moments, there were some very funny ones as well. Below are a few of my favorites and click to check out more "The Closet Reconfiguration" quotes. 

Bernadette: You can't just throw everything in the closet.
Howard: Hey, you can tell what to do or you can tell me how to do it, but you can't do both. This isn't sex. | permalink

Leonard: Mmm, you know, we could throw a dinner party too. Maybe even ask everyone to get dressed up.
Penny: Sure. Just when you say "dressed up" you mean nice clothes, right? Not, like, capes and tights and crap
Leonard: Although...
Penny: No. | permalink

Sheldon: Is there any reason you're keeping this dead goldfish?
Penny: Damn, I forgot to feed him and that I had him.
Sheldon: Well, now, did you also have a dog? Because I found what appears to be a battery-operated chew toy.
Penny: Party's over. Party's over. | permalink

And, if you need a laugh, you can always browse through our entire collection of The Big Bang Theory quotes.

Where you glad to see everyone together? Would you rather see them "dressed up" Penny-style? Or, Leonard-style? What was your favorite letter story?

Carla Day is a staff writer for TV Fanatic. Follow her on Twitter and on Google+.

Tags: The Big Bang Theory, Reviews
From Around the Web