I don't know whether to have a good feeling or a bad feeling about the final episodes of Secret Life of The American Teenager.
"To Each Her Own" certainly didn't give any substantial clues to help me out. The end-game couple has always been, in this viewer's estimation, Amy and Ricky. Their start was rocky but they learned to communicate in ways adults can only aspire to do, and that's how you build a lasting relationship.
The was so much doubt cast over their future in the spring premiere that I'm worried the writers have a different ending in mind than the one I have been betting on for five years.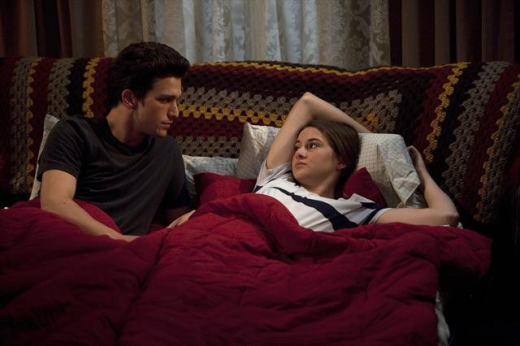 The biggest portion of the drama was focused around Amy and her wedding dress. On a positive note, she finally bought one, which would indicate she's ready to move forward with the wedding. The downside was she bought it at a thrift store and only paid $25 for it.

Did she really buy it because she spotted a fantastic deal on a one of a kind designer gown and saw her dream of being Ricky's wife and beginning their life together coming true on a level she couldn't otherwise imagine in their circumstances? Or, as Adrian surmised, did purchasing that ugly dress somehow portray her true feelings about where she stands with Ricky - she made a decision to do the right thing and now she's stuck with it.

That wouldn't make you feel pretty, and without the benefit of Amy's imagination, all we saw was an ugly dress.

It seemed the harder she tried to get support from her friends and family about the dress and tried to get them to see the beauty of her future in it, the more rejection she got from them, and the more she questioned her future. Not just the dress, but her entire life. If nobody could imagine what she could make out of a dirty dress, then how could they believe she and Ricky could make a beautiful life together with what little they had?

Omar spotted the gown for what it was on the outside, and was one of the only friends to commend her on sticking by Ricky and John and living together as a family. The dress and her life seemed to be living the same story.

When Ricky finally apologized about his reaction to the dress, he said if she could make a man out of him, then she could make a lovely dress out of those rags. But Amy didn't make Ricky the man he has become, that was his own adventure. An adventure he seemed to be questioning.

When Clementine gave him his baseball trophy, Amy got jealous. As long as she is still getting jealous, there is still something left to lose, so I was happy for that development. Instead of just tossing the trophy as he almost did, Ricky took it back and returned it to Clementine, when he learned she had an entire collection of Ricky memorabilia from their childhood.

That's very creepy. With the way he looked at her as he left the restaurant, he's going to have doubts about Amy. It was obvious because at that same moment, Amy finally told Ben she hopes he finds someone to love because even though his obsession with her has kept her afloat through the rough times, he needs to find a love of his own. Amy and Ricky are going to keep us guessing until the very end, when all I really want is about seven episodes of absolute love and happiness without any third party interference.

It was annoying to me that Ben could look at Amy with a straight face and accept her sentiment when he's wishing her life falls apart so he can catch her. Could there be anyone worse to give Ethan advice about Kathy than Ben? Kathy seemed happy to see him (and she got to fly first class), but that's going to be one hard sell to her parents in Texas. Ben knows first hand what happens when you fall in love with someone who had a baby with another boy. Why would he wish that life on someone else?

Anne is still dating Willadean, Nora's AA sponsor, and George had a hay day hitting on her. Even now that he's dating Kathleen, he still can't help himself from making passes at the gay women trying to turn them straight. He's such an odd fellow. Does anybody have a clue why he and Kathleen ran into Chaz Bono at the buffet restaurant? His life is like a cartoon.

It was totally unexpected that Anne's old boss and boyfriend, David, popped back into the picture as a possibility to be Robby's father. There isn't one untangled web on the show, and it seems Secret Life of the American Teenager Season 5 will finish off much as it started - a giant, entangled mess. Just please let it end with Amy and Ricky in each others arms.

Carissa Pavlica is the managing editor and staff writer for TV Fanatic. Follow her on Twitter and on Google+.

Tags: The Secret Life of the American Teenager, Reviews