The Walking Dead Scoop: Rick's Journey, Andrea's Choice and More!
by Matt Richenthal at .
The Walking Dead opened PaleyFest 2103 last night with an in-depth panel discussion that featured all our favorite cast members.
From Rick's craziness to The Governor's dark side, various stars and crew member spoke on various Season 3 topics. We run them down below...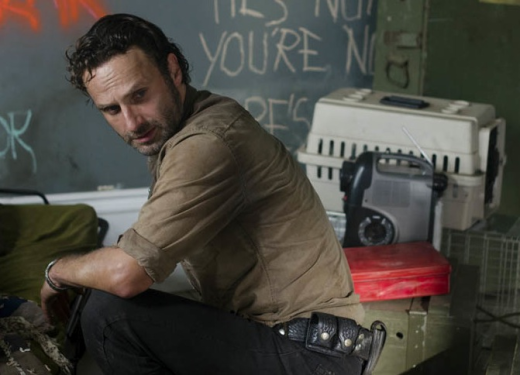 Andrew Lincoln on Rick's dark journey: "The characters are always growing. One of the big attractions when I first spoke to Frank [Darabont] about [the role] was that: You start in one place and end somewhere else. The journey this season has been incredible. To push one of the central characters off the cliff's edge like that is really bold. But I'm running out of mad gags. I hope [Rick] comes back from the brink soon."

Norman Reedus on the clashing siblings: "The Dixon brothers fight because they have to fight. Their backs are against the wall. There's a sensitive side to Merle and you'll see it in an upcoming episode, it's really great.'

Laurie Holden on Andrea's view of The Governor: "When she goes back and sleeps with him again it's not because she's having a weak female moment and thinks he's handsome. She thought she could follow through with Carol's plan. Andrea thought she could do it and tried to do it.

"I think sleeping with him disgusted her. Then she woke up and it's one thing to kill someone in self defense but it's another to stand over with them a knife while they're sleeping. She couldn't do it. You could call that weak or you could call that strong. But Andrea has never killed anyone before. She wants to find the humanity in both these men."

Producer David Alpert on The Governor: Is he pure evil? "I don't think any one character can be summed up that way.  All the characters have elements of good and bad and evil in them. The Governor and Rick are both facing the same problems. They're both leaders, both trying to keep their communities alive. Right now the Governor is actually doing a better job at that. There's a part of him that's good. He wants to be that father figure. But the darkness has allowed him to grow and prosper."

Producer Robert Kirkman the future for Carl: "Carl is one of my favorite aspects of the comic and the show. [We] watch him grow and evolve from this kid who's almost a burden to a child soldier. Where we're gonna go with this kid is some pretty exciting places. This season is really just the beginning of his journey."

The Walking Dead Season 3 resumes tomorrow night with a new episode on AMC. Visit TV Fanatic the moment it concludes for a detailed recap and review.

Matt Richenthal is the Editor in Chief of TV Fanatic. Follow him on Twitter and on Google+.

Tags: The Walking Dead, Spoilers, PaleyFest
From Around the Web