Torrey DeVitto Speaks on "Realistic" Character, Fresh New Season of Army Wives
by Sean McKenna at . Comments
Army Wives is in for some big changes.
After the shocking news about Claudia Joy in "Ashes to Ashes," the follow-up episode, "From the Ashes," will reveal not only new stories, but brand new cast members for the Lifetime series.
I recently spoke with Torrey DeVitto, who joins the show as former airborne soldier Maggie Hall, someone now dealing with a new army husband and domestic life. Along with the likes of Brooke Shields, Ashanti, and even Jesse McCartney, Devitto and the slew of joining performers are ready to bring "fresh blood and a new excitement."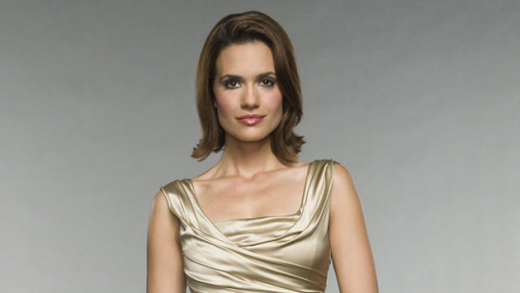 "There's so many of us newbies this year, that we all kind of have the new excitement as if we were going to film a new pilot and it got picked up," said the actress. "I think a lot of the original cast is feeding off that excitement and I think they're happy to have us because of that fresh energy. I think that will translate onto the show."

At the same time DeVitto acknowledged her awareness for die hard fans not happy with some of the changes, but she also recognized the truth behind the show that "when you're in an army family, you never stay in the same place for a very long time. This is very realistic to the show, having new people come in too."

Certainly she hopes to win them over with Maggie's story and even getting to work with some of the original cast.

"She's a strong female. She also has a really great bond with these girls as the season goes on. There's a lot of female camaraderie. She's got a kid of her own. She's dealing with a new blended family with a new husband who has a 14 year old step-child, so there's challenges there. She's ex airborne but used to being the one getting deployed. Now she's trying this whole new mom thing. It's proving to be more challenging than she thought."

While DeVitto has been more recently seen on shows like The Vampire Diaries and Pretty Little Liars, she's enjoyed working on a series that's targeted at a more adult demographic.

"It's cool. She's the most realistic character I've ever played on TV yet for sure. I like playing someone who you know someone at home will be watching and going 'Oh my gosh, I'm going through that exact problem.' It's a nice change."

The star continued: "I love her because she's so bad ass. She can take care of herself and she can handle herself around men. At the same time I think Maggie is a iron fist with a velvet inside, and you'll see that as we go on. She has such a tough exterior, but she kinda crumbles on the inside sometimes."

Interestingly enough, despite playing a woman more focused on the home life with her husband and kids, DeVitto "still wanted to know what [the physical aspect] was like and have that in the back of my head" in order to play Maggie.

"I've never physically trained for a character before, so doing that was really cool. It wasn't even that it was that long, it was such a high intensity. It gives me even more respect for females in the service because it is male dominated. I was the only girl at the boot camp and the guys are so great to me, but there is a difference in the way they treat me and the way they treat themselves. It's just natural when they do it. As the only female there, I felt like I had to prove myself extra hard, push myself, and not show any weakness. It's crazy how the men and women naturally go into those positions. I can imagine how it is for a female who goes into the service, constantly trying to prove your keep and that you don't need to be babied."

She laughed and added: "I did not complain, but let me tell you, when I got into the car, I was like get me home, I am going to throw up."

As for what's in store for the revamped Army Wives Season 7?

"You'll see a lot of struggles, ups and downs, heartbreak, and happy moments. It's realistic and stuff people are dealing with day to day. I hope it offers some support in people's own everyday struggles… and I think they have all the different characters to look forward to."

Watch Torrey DeVitto report for duty on an all new episode of Army Wives this Sunday at 9/8c on Lifetime.

Sean McKenna is a TV Fanatic Staff Writer. Follow him on Twitter.

Tags: Army Wives, Exclusives, Interviews