While Hawaii Five-0 Fanatics love seeing McGarrett and Danny banter and work each other's nerves, imagine what their annoyance levels would be if a TV talk show host was suddenly allowed to follow their every move with a camera crew in town.
That's exactly what goes down on tonight's installment of the CBS hit, as Aisha Tyler - who knows a thing or two about hosting a show as part of the crew on The Talk - stops by the big island.
I checked in with the busy comedian/host/actress to find out what the experience was like shooting in Hawaii, while also touching on her myriad of other projects...
-------------------------------------------
TV Fanatic: Tell me who Savannah Walker is. She looks like maybe a send-up of a little of everybody that we see on these on talk shows.
Aisha Tyler: She's not really based on anyone. She's a talk show host, kind of charismatic and the idea is that she has this kind of light conversational show and decides to do this in-depth piece on Hawaii Five-0. With an eye towards not an exposé but towards creating something more exciting and more visceral than what she normally does and she end us in the middle of the action and that's kind of more than she bargained for.
TVF: How does she actually get in with the guys because they're so protective, but they obviously let her and her crew follow them.
AT: They're forced to by their bosses. And they don't really make it easy on her at all.
TVF: Are most of your scenes with Alex and Scott?
AT: No. I have scenes with everyone. They wrote it so I have scene with every single member of the cast. I do spend a bunch of time with Alex and Scott, but also with the entire team as a group, which was really amazing.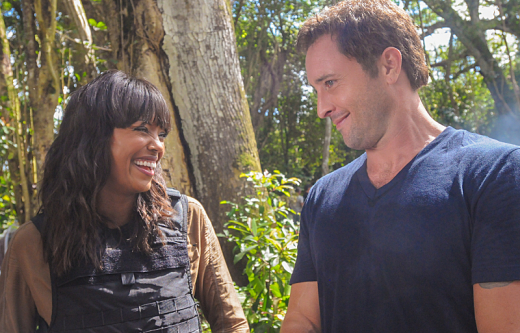 TVF: Having talked to the cast, I know they're all pretty fun and crazy and you can be fun and crazy. How did the shoot go?
AT:  It was fun and crazy, absolutely. You know, I've been doing this for a long time and it was just nice to be back on a drama set…the role is really substantial. A main concern is that this person doesn't come in and interrupt your flow or not be prepared. So my main goal was just to know my lines and hit my marks and people will see the way that they shot the [episode], because is was like a documentary style piece, is very different from the way the show normally looks. So it was much more aggressive and it was just really important that everybody had it together, but it was great. I love working that way. A bunch of the producers on this show, I worked with them when I was on 24 and that's how they worked on that show as well.

TVF: How involved in the action do you get? Do you get to hold a gun?
AT:  I got to do lots of stuff. I don't want to give it all away.

TVF: And how hard was it to be in Hawaii with all those pretty people?
AT:  Well, I'll tell you, it didn't suck! But it wasn't as glamorous as you would think because quite a bit of it was just getting up before the sun came out, working all day and then going back to my room after the sun went down. So there was not the kind of like 'I'm in Hawaii' feeling that you would have had because I was really working 14-hour days.

TVF: Does being one of the hosts of The Talk give you a different perspective on the talk show since you're on the other side of things?
AT:  Well, actually what's been great about it is that I have been on the other side of things, and almost all of us have who are on the show now. And so for us, to know what it's like to be guest on the show, and how intimidating it can be, or kind of bewildering it can be. I think our goal is really to make it a really enjoyable experience for the guests that we have because we know what that other experience on the other side of conversation feels like. So that really is what drives, I think, the way that we do our show, and we want people to have fun.

TVF: Where are you in Whose Line Is It Anyway? Have you already shot episodes?
AT:  We shot about half of the episodes and as soon as I hang up with you I'm heading to set to start working on the other half. It's going great. It's amazing. It was this huge brand for long time, it's really beloved, and the crowds have been insane. We've had twice as many people show up as we have seats for and they have been just so enthusiastic, so passionate and it's going better than I every could have hoped. Especially, because I'm replacing someone [Drew Carey who hosts The Price Is Right] and so there was a little bit of anxiety that I had about whether people were going to be like 'Oh, she's not Drew,' but they've been amazing.

TVF: Tell me about the book you have coming out soon.
AT:  It comes out July 9 and it's called 'Self-Inflicted Wounds' and it is based on the segment on my podcast [of the same name] where my guests come on and tell an embarrassing story about something that's happened to them in their lives that was their own fault. And so this book is a collection of all my own self-inflicted wound stories from the time I was five years old…So many times I have fans and people ask me for advice and they say, 'I'm afraid to try to that because I'm afraid I'll fail' and I always tell them, 'Well, you probably are going to fail and failing is the unavoidable aspect of the path towards success and if you can't not just fear failure but really embrace failure and what you can learn from it, you're never going to be successful.' So it's a book about embracing failure, and what failure can teach you, and how really overcoming your failures, and growing through them and not fearing it can help you be successful.

Hawaii Five-0 airs Mondays at 10pm on CBS. The Talk airs weekdays on CBS. The revival of Who's Line Is It Anyway? kicks off July 16th on the CW.



Jim Halterman is the West Coast Editor of TV Fanatic and the owner of JimHalterman.com. Follow him on Twitter.

Tags: Exclusives, Hawaii Five-0, Interviews