The American Idol contestants bid a tearful goodbye to Burnell Taylor last week after the judges decided not to use their one save to keep the Louisiana boy around.
Tonight, the Top 6, five of whom are female, will tackle two themes: First, the songs of Burt Bacharach and Hal David catalog, and second, songs they wish they'd written.
I wonder if any of them even know who Burt Bacharach is. Let's find out now!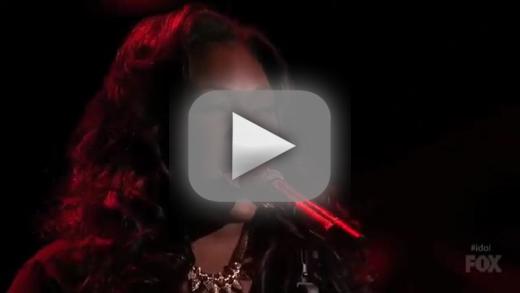 Round One: Burt Bacharach and Hal David catalog
Kicking off the night is Angie Miller. She sings "Anyone Who Had a Heart." First, she looks amazing. This is perhaps the best she's ever looked all season. Second, she seems slightly less theatric than usual, so she's taking notes. Her vocals are solid, but the performance itself is very lounge-y. Keith says she has a great voice and he wants her to tap into the emotion and passion of the songs she chooses. Nicki agrees with Keith that her voice is amazing, but there was no passion in this performance. It was "old fashioned." Randy agreed with Keith and Nicki and thinks that she also needs to start understanding the songs she's singing like she wrote them. Mariah tells Angie not to enunciate because pronouncing the words is hurting the passion. 3.5/5
Amber Holcomb tackles "Say A Little Prayer For You" as done by Dionne Warwick. The girl has a thing for denim. While the theme is doing nothing for her, or for any of the contestants for that matter, this is a great moment for Amber. She sounds great and does some fancy things with the song. She has some fantastic runs and seems to have fun. Nicki can't collect her thoughts enough to give a critique beyond saying that Amber has just become her favorite girl in the competition. Randy said Amber started the competition and stopped just short of giving us an "in it to win it." Mariah complimented her on taking a chance and compared her to other legendary vocalists who've sung this song. And then Mariah gave us an "in it to win it." Keith called her effortless and said she never overperformed. 5/5
Last man standing, Lazaro Arbos, busts out The Carpenters' "Close To You." The song is way, way, WAY too low for him. He has no lower register and I can't understand a word he's saying because it's too low. It was absolutely terrible. Randy compared him to one of the auditioners who would've gotten a "no" and called it one of the worst performances they've ever had on the competition. Mariah explains key changes and then tells him he didn't change when his key did. She has a hard time telling him it was awful. Keith says Lazaro's fans will love him no matter what, but says that the song was too low for him from the start. Nicki doesn't even comment. 0/5
Kree Harrison sings "What The World Needs Now." Once again, she's made an excellent pick. There's enough room in this song for her to infuse her country twang into it. It's just gorgeous and understated and elegant. She's so confident and aware of herself as an artist. Mariah complimented her song choice and believes that Kree isn't someone who's trying too hard to force the emotional connections to her songs. Keith says that when Kree sings, people feel compassion in her voice and says this is the best she's ever sounded. Nicki believes that Kree's already beyond the scope of Idol. Randy loved that she followed Lazaro so that she could remind us what this competition is all about. 5/5
Our other country girl, Janelle Arthur, suffers by following Kree tonight. She chooses "I'll Never Fall In Love Again." It's not my favorite performance of hers. There are a couple of weird moments, and a couple of good moments, but I can't stop thinking about Austin Powers. There's nothing keeping my attention. Keith says we always see a different side to her every time she sings. Nicki tells her there's no doubt she could be a commercial success but this performance was boring. Randy liked the bright spots when she went up into her falsetto and challenged her to find more of those moments. Mariah calls her effervescent and thinks she could've held back just a bit in parts. 3/5
Closing Round One, Candice Glover sings "Don't Make Me Over." It's amazing. The arrangement is great, and the accompaniment is reserved which allows Candice's vocal talent to really shine. And shine it does. She has so many great moments in this performance. So many. It's like she wasn't even trying. Nicki said that her performance didn't at all sound old-fashioned and says this is what Candice was born to do. Randy gives us an "in it to win it" and calls hers the best vocal of the night. Mariah loved that she took a classic and made it current. Keith said she set the bar high and just became part of his Top 3. 5/5
Round Two: Songs They Wish They'd Written
Angie Miller wishes she'd written Kari Jobe's "Love Came Down." She returns to the piano and does the thing with her eyes that looks like she's trying too hard to make a connection with the song and the camera. When she closes her eyes and just lets go, she has a great moment toward the end. She's always great when she's behind the piano. Randy loved it because she tapped into the emotion that was missing from her first performance. Mariah says she'll never lose if she uses the piano. Keith says that after practice with the piano, she's going to start tapping into the emotion without the piano. Nicki tells her that straying from the piano is always a mistake. She's the only one in the competition who can do what she does and she keeps running away from it. This, Nicki says, is the kind of performance that made America vote for her. 4/5
Singing Beyonce's "Love On Top," Amber Holcomb starts a little too low. There are some rough moments where she's pushing too hard to hit the note and it sounds like she's shouting a bit. I think she got too caught up in moving around and looking like she raided Whitney Houston's circa 1987 closet to focus on the lyrics. Mariah said that this wasn't her favorite vocal of Amber's but gives her credit for performing. Keith said it was a great song choice and called it beautiful. Nicki said something insane and ended with "Work." Randy gave her an "in it to win it." I think Mariah was the only one speaking any sense after that which means the Earth might be off its axis. 3.5/5
Lazaro Arbos chooses Robbie Williams' "Angels." Once again he chose a song too low for his range. He sounded better on the chorus when he could project a bit with the notes. Keith said that the girls are singing "crazy good" and Lazaro isn't. Nicki didn't give a comment. Again. Randy said it was slightly better than his earlier performance but Lazaro looks like he's in a talent show. Mariah said this was a better range than earlier. 2/5
When I think of country music, I don't think of Kris Kristofferson. Kree Harrison does, though. She picks "Help Me Make It Through The Night," which has been covered by many of her country music influences. There's a very throwback, Patsy Cline quality to her voice that's just excellent. She's so good at this I want to buy her album tonight. And she looks fantastic. Nicki says she's "at the head of the class" and says she's going to be around for a long, long time. Randy calls her a "natural singer" and loved the ease in her voice. Mariah paid the greatest compliment of all when she said that she had to sing this song once but Kree's version is how the song is supposed to be sung. Keith predicts that Kree will be a member of the Grand Ol' Opry some day. 5/5
Janelle Arthur wishes she'd written Garth Brooks' "The Dance." This is the perfect song choice for her. Perfect. It's her kind of country. It's not the best arrangement for this song, however, because it cuts important moments to fit the allotted time. And there are some parts that feel un-country. There's a bobbled note or two toward the end, but overall it's a solid performance. Randy said she gave a good performance, not her best, but good. Mariah had never heard this song before and said that the beginning, when she was just seated and connected to the lyrics, were the best moments of the song. Keith says she should've played the guitar and gotten rid of the frills. Nicki felt that this was better than her first performance, but doesn't think Janelle did enough to best the other girls. 3.5/5
Finally, Candice Glover sings "Lovesong" by The Cure with influence from Adele. It's really stripped down with only the piano and Candice. She. Is. Amazing. The things she can do are unmatched in this competition. Keith actually bowed down to her after that performance. It was that good. And Mariah threw a handful of glitter on her. The audience was deafening. Randy, on behalf of all the judges, called it "one of the greatest performances in the history of Idol." And it was. 5/5
The combined scores of the Top 6 are:
Angie Miller--7.5/10
Amber Holcomb--8.5/10 
Lazaro Arbos-- 2/10
Kree Harrison-- 10/10
Janelle Arthur-- 6.5/10
Candice Glover-- 10/10 
Candice Glover and Kree Harrison are on fire. Right now, after tonight, my prediction is that they're the Top 2 of the whole thing. They're the most consistent week to week. Consistently amazing. Seriously. Those two are head and shoulders above the rest of the competition and at this point I think I would be unable to choose between the two to pick a favorite.

Lazaro Arbos must go home this week. If he doesn't, I have NO IDEA what America is thinking. In fact, if he's still here after tomorrow night, I think America isn't thinking at all. Lazaro must go.

What did you think of tonight's performances? Whose was the best?

Miranda Wicker is a Staff Writer for TV Fanatic. Follow her on Twitter.

Tags: American Idol, Reviews