American Idol Review: The Heart of Rock and Roll Is The Beat
by Miranda Wicker at .
Tonight American Idol sets out to prove that Rock and Roll is here to stay! No slow ballads. Just up-tempo numbers to get us up and off our couches. Maybe.
Will the contestants rise to the challenge of faster tempos and harder beats? Let's find out now...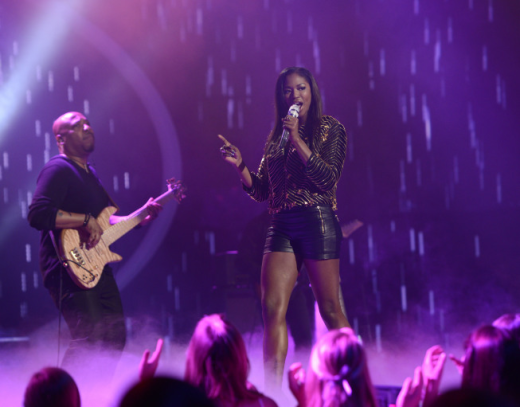 Burnell Taylor chose to start the night with the Bon Jovi anthem "You Give Love A Bad Name." He's a little uncomfortable making his way from the lower stage to the upper, but it's fantastic to see him take the mic off the stand and move a little more than just his hands. He played it close to the original and did a solid job even if he didn't do anything incredibly novel with the interpretation. He definitely stepped out of his comfort zone and seemed to have a good time. Keith said he looked uncomfortable in the song and gave him the advice to make the songs his own when they're out of his comfort zone. Nicki thought that even though rock isn't his thing, he was still lovable tonight. Randy felt he was behind the beat for the whole song. Mariah was proud of him for having fun with a song that wasn't his in his genre. 3.5/5

Angie Miller and Lazaro Arbos teamed up for "Crazy Little Thing Called Love." It was crazy alright. Crazy bad. Lazaro is kind of a dead weight and Angie looked bored. Nicki said she had fun watching it and said Lazaro had fun and Angie sounded amazing. Randy said Lazaro got better toward the end. (Yes, because he stopped singing?) Mariah thought it was a strange choice because the song wasn't originally a duet. Keith said it wasn't a great duet and called it "kitschy."

Now for a girl who understands song choice. Kree Harrison chose "Take Another Little Piece of My Heart" by Janis Joplin. It's perfect because there's just enough of a Blues vibe in the original version of the song for this to be a natural fit for Kree. And Kree has a natural Janis Joplin-y texture to her voice that just fits. She bobbled the last note just a little bit, but that was another stellar performance. Randy gave us an "in it to win it." Mariah called it incredible and said Kree has "an innate ability to choose [her] songs." Keith asked about Kree's boots and wondered if they were holding her back from being able to perform but said her voice shined regardless. Nicki plugged the Americand Idol app and said that Kree seems like she's already an established artist. 4/5

In a duet that makes sense, Candice Glover and Burnell Taylor teamed up for "The Letter." The arrangement was jazzed up so as to make it nearly unrecognizable from the original, but it suited their voices and let them shine individually and as a duo, which was a marked change from the earlier duet. It was actually pretty amazing. Mariah said they've proven they could sing anything and did justice to the song. Keith said Burnell was in the zone and Candice was a galaxy. Nicki said Candice has an awesome voice and pointed out to Burnell that this is what he's supposed to do when he sings out of his genre. Randy called Candice a professional and said they were both brilliant.

Janelle Arthur sang "You May Be Right" by Billy Joel. There was so much wrong with the performance. It was all over the place. She struggled in her lower register  and the last phrase was a bizarre way to end the song. A very American Idol-esque ending. Keith loved her boots but didn't think the song was perfect. He felt that she's improved week after week though. Nicki also loved Janelle's boots and said that the performance was exceptional. She complimented Janelle on her relatability. Randy said she's "authenticity at its best." Mariah loved the key she chose to sing in and said that this one showcased her vibrato. 3.5/5

Lazaro Arbos, in what might be his best performance on this show to date, selected "We Are The Champions" by Queen. I can't put my finger on what, exactly, was so different, but it was actually really good! He stayed on the beat and had a great time. Nicki felt the flair in his voice. Randy thought it was a great performance. Mariah complimented him on his song choice. Keith thought he chose a song that played into his dramatics. Keith nailed it. What made this song different from the others is that, while it's lyrically slow, there's power behind the music. It was slow like Lazaro's typical ballads, which allows him to work around his stutter, but the arrangement had power. There was a really nice balance there. 3/5

The final three contestants, Amber Holcomb, Kree Harrison, and Janelle Arthur, teamed up on a slow, boring version of "Still Rock and Roll To Me." Their harmonies feel off and Amber's voice doesn't match the country girls at all. It felt like bad karaoke. Or Kids, Inc. Randy called it "unbelievable" and I think he's lost his mind. Mariah said "yay." Keith said they were great together and should do more. Nicki called them Jem and the Holograms and said the song choice put her to sleep. They just learned it yesterday, so maybe that explains it?

Singing The Rolling Stones' "I Can't Get No Satisfaction," Candice Glover proves that she's capable of just about everything. She's totally at home in this big rock number. The staging is great. Lyrically, there's not much substance to this song, but the thing is that the repetition in them allows Candice to showcase her skills. Mariah calls her "mesmerizing." Keith loves that the power in Candice's voice never falters in any part of her range. Nicki can't think of enough good things to say about Candice's voice but found the performance and song choice kind of boring. Randy loves that Candice has this big voice and was able to bring the attitude of rock to the performance. 4/5

Amber Holcomb started strong on Heart's "What About Love." I was glued to the performance until the middle and then it got a little off. There were some fantastic moments in there and she picked a good song for her voice. My trouble with Amber, I think, because I'm still trying to figure it out, is that she doesn't enunciate. When she starts singing the big, huge notes, she drops consonants and syllables and that irks me. Keith loved the key change and thought she did great. Nicki was pulled in emotionally and called this her favorite performance of the night. Randy said she kept herself in the number. Mariah felt she did a great job putting the natural inflections of her voice into a rock song. 4/5

Closing out the night is Angie Miller. In what is the best rock song choice of the night, she's chose Evanescence' "Bring Me To Life." Why no one else decided to choose a song from a more recent decade besides her is beyond me, but she just schooled them in song choice. She started on the piano and picked a song that made her current and fit her voice. It was the best performance of the night. Nicki said it was a perfect choice. Randy also thought it was a great choice and feels like this is in her wheelhouse. Mariah felt like this removed all of the negative criticism she's gotten about her theatricality because it fit for this song. Keith loved the song choice but felt that she was a little too conscious of how she looked while performing. 5/5

Theme weeks like this are tough, especially when only one contestant is really interested in pursuing a career in that genre. Everyone else who doesn't plan to sing in that genre has to find a way to struggle through it. In this reviewer's opinion, Angie Miller won the night for song choice alone. Kree Harrison gave her a run for her money. The third entry into the top 3 is a tie between Candice Glover and Amber Holcomb. 

That leaves Janelle Arthur, Lazaro Arbos, and Burnell Taylor in the bottom 3.

Here's what I'm hoping. That Lazaro's voters vote for him, but that people vote for everyone else more. He wasn't awful tonight, but he's the weak link. If he's not the one to go home tomorrow night, the judges will likely use the save. 

What did you think of tonight's performances? Who had the best rock performance tonight on American Idol?

Miranda Wicker is a Staff Writer for TV Fanatic. Follow her on Twitter.

Tags: American Idol, Reviews
From Around the Web