Clara got her official induction into the world of The Doctor in "Rings of Akhaten" with a trip to an alien world. It was magical and fun and reminded me a bit of one of the original words in the Star Wars franchise.
We learned very early in the story of the leaf that was the first page of Clara's book from "The Bells of St. John," and with this magical alien world came the necessity to part with items very precious to you instead of money. It's all setting up a theme, but I'm sure that I cannot figure out what it is yet.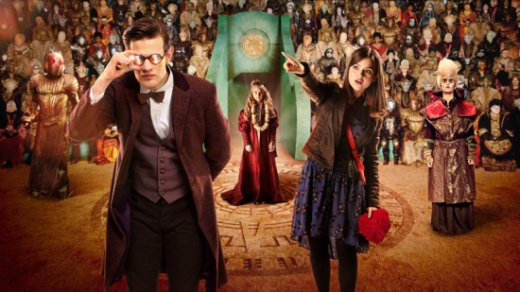 The Doctor is not giving up on his search for the mystery that is Clara Oswin Oswald. If his research is any indication, there will be no end to the intrigue any time soon. The leaf struck a man in the face and he was almost hit by a car. A woman saved him, and she became Clara's mother:
Man: So I've got something for ya.
Woman: What? Ya kept it?
Man: Of course I kept it.
Woman: Why?
Man: Because this exact leaf had to grow in that exact way, in that exact place, so that precise wind could tear it from that precise branch and make it fly into this exact face at that exact moment. And, if just one of those tiny little things had never had happened, I'd never have met ya. Which makes this leaf the most important leaf in human history. | permalink
The first page of Clara's book, "101 Places to See" was a duplicate copy of one her own mother, Ellie, had. In her mother's copy was the leaf. In Clara's was the progression of her age, as little girls will do to mark their possessions.
Minutes later, we see Clara at a grave of Ellie Ravenwood who died in 2005, holding the same book. Inside the book is the name Ellie Ravenwood, the same name on the gravestone, with the age 11 inscribed. The books themselves, from the different timelines, are different colors. Ellie Ravenwood, Clara's mother, died when Clara was 11 in 2005. None of it makes perfect sense to The Doctor and still he says, "She's not possible!"
It makes the story of our new companion all the more exciting, and his enjoyment of taking her on adventures is only enhanced by her mystery. I wonder why Clara's mother's grave was marked as Ravenswood while Clara's last name is Oswald. I'm sure we'll find out. Each time someone asked for a personal artifact to pay for passage of some sort, I imagined her pulling out "101 Places to See."
Nothing seems to phase our Clara, but the possibility of giving up what she remembers of her mother.
Did anyone else think that the god to whom Merry, the Queen of Years, had to sing her song looked an awful lot like a combination of the Grinch who stole Christmas and a sleestak?  It was going far too well for the story to end on a positive note, and for Merry to be captured and summoned to the mummy made perfect sense to the story of Clara so far. Because she is so much like Merry. As The Doctor said to Merry, there is only one Merry in the universe, and whether he likes it or not, there is only one Clara. He just cannot suss out how that's possible.
Something in Merry's song woke the sleeping god and he wanted to feed on her memories. In the end, The Doctor offered himself up as a sacrifice, giving one of the most exquisite speeches about who he is, where he has been and what he has seen over the past 50 years of Doctor Who I've ever heard. If I could have caught it all into a quote, I would have but it was beyond my capabilities. It was truly magnificent, right down to sharing that he had walked alone in the universe when there were no men and he was willing to give it all up to save the lives of all the others.
When in stepped Clara. Clara with her mother's copy of "101 Places to See," a book so well known and yet she was unable to come up with a single place to visit in the Tardis when asked by The Doctor where she would like to go. She opened her book and offered to the god the memories not of herself, but of a life unlived, that of her mother. All of the infinite possibilities that could have and should have been, but were not. The insatiable god took it, and exploded. As The Doctor said:
The Doctor: Well? Come on then. Eat up. You're full? I expect so. Because there's quite a difference between what was and what should have been. There's an awful lot of one but there's an infinity of the other. An infinity is too much, even for your appetite. | permalink
Clara saw that The Doctor was giving up everything to save the people of the worlds they were visiting, and in exchange, she gave up her most precious possession, the life her mother never lived and all of the promise it held to save The Doctor.

You all can argue with me and bring out examples of other companions and Doctors who have had great chemistry, even try to say what Clara has feels forced, but the last 15 minutes of this episode was epic. With Matt Smith's Doctor on his knees begging for his memories to be dragged out of his soul as salvation for generations with tears streaming down his face and Jenna-Louise Coleman's Clara taking that burden from him with a speech equally as emotional, I was moved to sobs. Not just tears. Sobs.

All of this will work it's way to the 50th anniversary of Doctor Who. Can you even imagine what Steven Moffat has in store for us? If the stories and the writing continues in this manner, I'm just going to watch from bed with a box of tissues. I realize they can go campy, funny or emotional, but so far I'm getting an emotional vibe that will knock my socks off. Note to self: don't wear socks.

Carissa Pavlica is the managing editor and staff writer for TV Fanatic. Follow her on Twitter and on Google+.

Tags: Doctor Who, Reviews