John Barrowman Teases Return of The Dark Archer, Mysterious Role on Scandal
by Jim Halterman at . Comments
As you saw from the just-released photos from the Arrow season finale, things are going to heat up between Malcolm Merlyn (John Barrowman) and Oliver Queen (Stephen Amell) over the next two week.
Just how much – and how it plays out – remains to be seen.
But what of Malcolm's relationship with his son, Tommy (Colin Donnell) or Queen's mother, Moira (Susanna Thompson)?
I sat down with the always-fun John Barrowman last week to break down what's ahead on the final episodes, whether we'll see Malcolm in Season 2 of the CW hit and to see if he would tell us anything about his hush-hush role on Scandal Season 2...
----------------------------------------
TV Fanatic: Is anything Malcolm is doing for his son, or is it all self-serving?
John Barrowman: I can't tell you. I can't tell you. If I were to tell you that, it would be a huge spoiler because in the next three episodes that we have to go, you're going to find out a lot that is revealed about Malcolm, why he is doing what he is doing, who he is doing it for and what his realizations are while he's doing it and what others' realizations are while he's doing it.
TVF: Is this maybe like a big soliloquy or monologue where you explain everything? Stephen talked about it during our Q&A last week.
JB: I don't know why. Maybe it's because of my age bracket now. I get all the words.
TVF:  So Tommy has come back to the business. What's their relationship like? Better or worse?
JB: It progresses.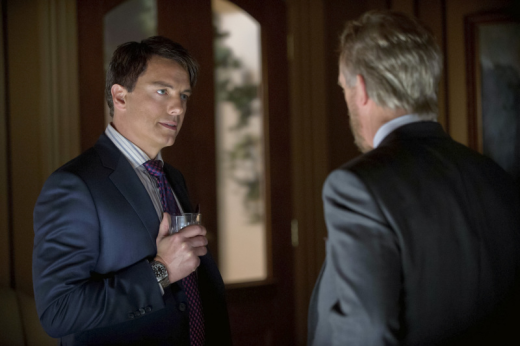 TVF: In a good way?
JB: It progresses in a good way, yeah, because this is John talking here, and I've spoken to Andrew Kreisberg about this. The thing's that's interesting is Malcolm doesn't know that Oliver is the Arrow. So, Malcolm has always seen Oliver being this young man who's been forthright with business and doing stuff. Malcolm would have actually liked Oliver to be his son. That's the attitude that I've had. That's why he looks at Oliver and sees him as a second son. That's why Moira always looks at Tommy as a second son also, so there's that family bond even though we're not blood family.

You see the relationship between Tommy develop. You also see the things between Oliver develop. Again, I don't want to spoil it because it goes a lot further. And some shocks, and some really amazing action stuff.

The Dark Archer, he comes back, of course. Of course, there's more confrontation, and Malcolm is desperate to show that to Tommy.

TVF: Let's talk about Malcolm and Moira because there's definitely some stuff going on between them. What can you say about their interactions in the coming episodes?
JB: There's a lot more to come. Moira and Malcolm's relationship will develop even further…Susanna and I have always played, there's been something more. Even if you just go back and look at stuff, the way I've touched her hair or put my hand on her knee. I've done something, and I've done that deliberately because, speaking as Malcolm and Moira, I couldn't have that relationship if it was just a superficial business relationship.

In my head, I created this whole story. Not saying what's going to happen, but to me, this is again, fan boy John talking, this has not been any of the writing and producers, there's a bigger story there, I think. Who knows what's going to happen with that, but Malcolm adores her yet would threaten her to the point of that he's going to do it, but I don't think he ever would. I really don't, and I think that's why she knows she can push and push and push because he knows she's never going to follow. She's worried more for her kids and her family, not for herself.

TVF: So even if he knows that she's tried to off him, that's not going to push him in that direction?
JB: I play it like it turns him on a little bit. The fact that she's got as big of balls as he does to stand up to him and try and kill him, 'f***ing good for you, girl. I'm going to stand up with you, and I like you ever more.'

TVF: I saw Marc Guggenheim at WonderCon and asked, "will we see Mr. Barrowman in season two?" He said he would love that, and that's pretty much all he would say. Would you like to explore Malcolm more than what you get to in these first season episodes?
JB: Yes.

TVF: What can you say about Scandal (Barrowman guests on the May 9th episode)?
JB: I am going to be in Scandal. That's all I can tell you. That was it.

TVF: Can you tell me how was your experience shooting Scandal?
JB: They were wonderfully supportive because I'll tell you what happened. I had been filming until 1:15 the night before on Arrow. I then got right to the airport for a 4:30 check-in, and I flew on a six o'clock flight on Alaska Airlines to Los Angeles, got off the plane, went to a wardrobe fitting. I finished the wardrobe fitting, went to set and started shooting eight pages which I got two days before.

I was a nervous wreck, and the first rehearsal I did was horrific, and the first couple of takes, I got myself into a state of panic because I know what the show is like. I know what they expect from you and I felt that I was tired and I put myself in a position that I'd never put myself in before, where I felt really like I was, I know I wasn't, but I felt like I was letting people down because I felt that I was prepared, but all of a sudden, it fucking went out of the window because I built this whole thing up in my head. Anyway, I can't tell who I was working with, but we got through the day, and the team there was so supportive.

TVF: Did Shonda Rhimes tell you everything about this mysterious character on Scandal and what's going on? Or did you do it more because you had done the Gilded Lilys pilot with her last year?
JB: They rang and said, 'We have a role for you that we'd like you to do at Scandal." I know that my agents at WME (William Morris Endeavor)…I just said, 'Look, Shonda keeps talking about this. Give her a call, and let's see if we can make it happen.' Shonda made it happen and I'm chuffed that she made it happen because I love working for her.

Shondaland is like working for a family, and all of the shows that I've been involved in, we feel like a family. I have been really blessed with every, and I hate using that word, blessed because everybody uses it, but I've been really fortunate that most of the shows I have done, apart from a few, I really felt like we've been a family unit, and that's what Shondaland is.

Arrow airs Wednesdays at 8pm on the CW. Barrowman's Scandal episode airs on May 9th on ABC. 

Jim Halterman is the West Coast Editor of TV Fanatic and the owner of JimHalterman.com. Follow him on Twitter.

Tags: Exclusives, Interviews, Scandal, Arrow