It doesn't seem all that long ago that we watched Nate be bludgeoned to death by a rioting gang. That scene still haunts me. And, once again, Southland hit us with "Chaos."
It's difficult to pick the right words to describe what happened to Cooper and Lucero. Brutal, certainly. Graphic, most definitely. Heart wrenching, without a doubt.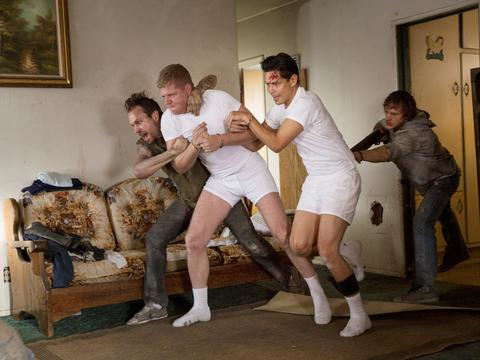 They say that no routine stop is ever routine - and as John and Hank came up on some tweaked out meth head pulling copper wire out of a construction site to buy his next score, the guy looked so ridiculous they almost laughed at his stupidity. The sight even caused the two to quip in this Southland quote…
Cooper: You want to go ruin his day?
Lucero: Absolutely. | permalink
Unfortunately, things were about to go horribly wrong. All it took was for Hank to let his guard down for a moment and John to take a little too much time cuffing a suspect and the call turned from amusing to horrific.
What happened next was in direct contrast to the events of the night before.
John came out to Henry by bringing him to a gay bar. John had heard one gay slur too many from his partner and finally had to set him straight.
Cooper: You've got a problem with gay people, that's your right, but I don't want to hear about it every day. | permalink
Lucero took it in his stride and gave a typical cop-like apology without really apologizing.
Lucero: I didn't know.
Cooper: You won't be mistaken for Sherlock Holmes. | permalink
But Hank quickly slipped back into one of his most attractive coping mechanisms: humor, and that was a reminder of his very first day on the job with John. What struck me about the moment was how John fell into the joking just as easily. 
Lucero: They were checking me out like crazy in there. Now I know what it's like to be a chick.
Cooper: If you want to be a chick, that's a different bar. | permalink
Despite Hank's obvious prejudice, John has appeared more comfortable in the short time they've been paired together than with any other partner. 

The scenes of their abduction were nothing short of intense. Stripped down to their t-shirts and boxers and handcuffed together, they were dragged out to the desert. That's where things spun completely out of control.

Hank seemed to feel he could talk these guys down, but the more he spoke, the worse it got. He was tormented, tortured and then shot in the head as he kneeled, praying the Hail Mary over and over again. 

All the while John's instincts seemed to tell him to stay quiet and look for an opening to escape. If Hank had been lucid the plan to grab the phone, that may have worked but it wasn't meant to be. 

John Cooper's stoic survival instinct and a brief moment of luck were what saved him. 

The rest of the storylines in the hour would have been compelling in any other episode but paled in comparison to John and Lucero's tragedy.

Ben's web of lies was quickly spinning out of control. Brooke was off the rails. There's no telling what she'll do next. Elena's brother was already expecting Ben to fix his next break-in gone wrong. If this guy gets arrested there's no way he won't flip on Ben to cut himself a deal.

Try as he would, Ben couldn't stop Sammy from tracking down Strokeface. The moment I saw all of that exposed rebar I knew what was coming. I almost felt sorry for the guy. 

I can't even imagine what hell will rain down on Ben when the truth finally comes out.

In the end, it was Cooper and Lucero's show. Not only did I think Hank was the best partner John's had in the series but I've been a fan of actor Anthony Ruivivar since his work on Third Watch.

No doubt Officer Hank Lucero will be missed and the ripple effects of his murder will be felt for seasons to come.

C. Orlando is a TV Fanatic Staff Writer. Follow her on Twitter.

Tags: Southland, Reviews