With money troubles continually piling up, Riley came crossed the line into prostitution as a way to get out in "I Ain't Broke But I'm Badly Bent."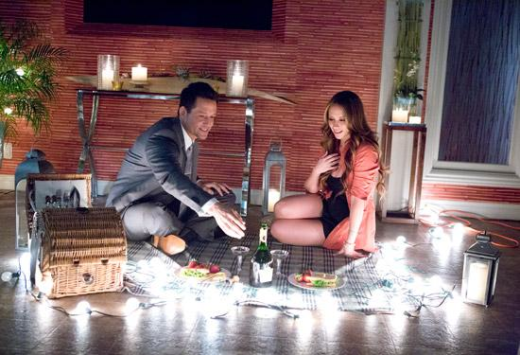 With fifty grand on the table and an invite from Cougar Town's Josh Hopkins, it's really no surprise Riley decided to go through with it. It certainly could be worse.
That's not to deny what a pivotal moment just took place on The Client List. The series is based on a prostitution ring; it's never been an issue of if Riley and her girls would cross the line, but a matter of when.
It's a good reminder of the quote brought up last week:
Client: People think it's the lack of monogamy that breaks tears marriages apart, but it's the lack of trust. I can't imagine finding out that the person you share your life with has been living a lie. | permalink
Riley does all of these illegal practices with the best intentions, bu -  except for a few people in her inner circle - everyone assumes she's just gives out massages. It's the perfect cover, but it leaves Riley laden with emotional and physical stress. All of that came to a head as she went just a little deeper into her secret world tonight, and her scrubbing down in the shower immediately afterward puts it best: she's ashamed, she's scared and she might be in over her head.

Riley has only slept with Kyle - and she's broken the monogamy and the trust with him. While I personally have no vested interest in Kyle and was actively rooting for him to get killed prison, Riley, on the other hand, wants to keep her marriage together for her children and the memories of her good times with her husband... yet she's going against what she believes in to keep her family together.

Her morals and her reality are being pushed against each other and it can only go so far before it pulls apart.

With Kyle being released from jail, there's no telling what happens next. But it won't be pretty. Here's hoping he does something stupid that gets him killed or sent back to prison so Evan can come back into the picture.

Evan is beginning to grow closer to his academy partner, and, while I'm sure she's nice and all, I would much prefer Evan continue trying with Riley. For the plot, I understand the desire to push Riley and Evan further apart and back to their respective corners, but does that mean Evan needs to be shut out completely? He's been a stand up guy to Riley and her children, and even if Riley doesn't want to start something, the least she can do is engage in some polite small talk instead of running him out of the room with some awkward silence.

Nick McHatton is a TV Fanatic Staff Writer. Follow him on Twitter.

Tags: The Client List, Reviews