"What Animated Women Want" played on the familiar trope of men versus women, and, in usual Simpsons fashion, the focus of the episode was on the dysfunctional relationship between Homer and Marge.
Homer has continually disappointed Marge over the long history of the series, but is always able to win back her affection through some kind of gesture (large or otherwise). Tonight's episode could have been a throwaway repetition of the usual pattern of their fighting, with Marge getting angry, Homer doing something vaguely stupid but incredibly touching and Marge forgiving him out of love or pity (and sometimes a combination of the two).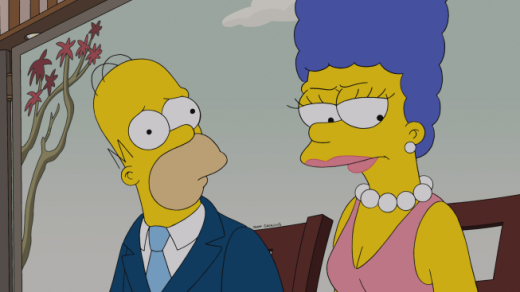 But it veered away from that pattern and it made for a much more entertaining half-hour of television. Instead of accepting Homer's attempts to make peace, Marge responded more realistically to the situation. After years of marriage and no visible change to Homer's behavior, Marge declared that his empty promises are not enough anymore.

She won't accept any more apologies (she has a drawer full of them already), and she isn't impressed by an old list of completed chores. This type of marital frustration is incredibly common, and it was nice to see Marge resist the urge to be a doormat again. BUT then she caved after watching Homer attempt to win her back many times. Apparently she really values persistence.

Also adding to the humor of the episode was the story of Milhouse and Lisa. Resisting the urge to please Lisa at any cost (even giving her his only cupcake), Milhouse changes his personality and begins treating Lisa poorly, like Marlon Brando in A Streetcar Named Desire. Surprisingly, it works!

Well, maybe not so surprisingly since Lisa had (has) such a big crush on Nelson.

The episode did play pretty heavily on the whole "girls like jerks" thing, but it was a little innocuous because it came from Milhouse and not Nelson. I didn't enjoy watching Lisa bow down to every one of Milhouse's demands, but it was sweet to watch Milhouse struggle with the decision to be so harsh to someone he cares about. Plus, he did find a happy medium in the end.

Despite the hilarious sight gags and funny The Simpsons' quotes , I felt humor of the episode was undercut by the odd narration. It seemed unnecessary as framing device as it didn't really add anything to the story.

Tags: The Simpsons, Reviews
Want more The Simpsons?
Sign up for our daily newsletter and receive the latest tv news delivered to your inbox for free!
More From TV Fanatic
On Tyrant, Bassam attempts to find a peaceful resolution instead of a revolution. Will he succeed?
On tonight's Covert Affairs, Annie and Auggie switch jobs and head to Paris. Will Auggie succeed in the field with Annie as his handler?
Usually it's insults that get tossed around on The Real Housewives of New York City Season 6 Episode 20 but Aviva threw out a leg. Her own! On the dinner table. We attempt to make sense of the nonsense in our +/- review.
On Perception, Daniel and Kate try to track down a missing baby. Kate also must deal with Donnie's talks about their own future children.
---