New city. New character. New Klaus?
The Vampire Diaries ventured to New Orleans last night for a special backdoor pilot, as The Originals took center stage and chaos reigned in The Big Easy.
What did our Round Table panel of Matt Richenthal, Steve Marsi and Miranda Wicker think of the unique episode? Would we want to see more of Marcel, Sophie and company? Gather around now and let's debate!
-------------------------------------------
What was your favorite scene from the episode?
Matt: I alluded to this in my review, but Joseph Morgan was simply terrific in that scene with Camille in front of the street painter. He scarcely said a word, yet his eyes revealed so much. And Camille's speech about demons and control made it clear there's a whole lot to this new character as well.

Steve: Let's just say Elijah would make a terrific motivational speaker in his next life.

Miranda: Daniel Gillies!! I mean, Elijah! All of them! But especially "My name is Elijah. I take it you've heard of me?" That scene was a throwback to Rose and Trevor and their fear and Elijah's introduction as a badass! He doesn't get his hands dirty often, but when he does, he's quite a force. Honorable Elijah mention goes to his line about how New Orleans depended on his mood.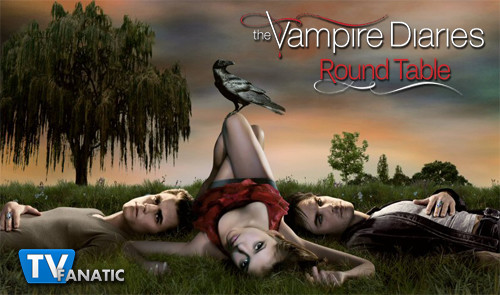 What should Klaus and Hayley name their baby?
Matt: Phil Mikaelson has a nice ring to it, doesn't it?


Steve: For obvious reasons, Kaley. NOTE: One of the obvious reasons is my crush on Kaley Cuoco.


Miranda: I'll tell you what name they should NOT use: Renesmee.

Pen a eulogy for Jane-Anne.
Matt: We hardly knew you, but we did hear your terrible name on multiple occasions. Wherever you are now, let's hope they change it. Rest in peace.


Steve: Jane-Anne. I was and remain totally confused by what you were trying to do in this episode. But sorry it didn't work out.


Miranda: Jane-Anne, Losing you was...well, not entirely unexpected. Sorry to see you go. Say hi to Jer!

Should Rebekeh move to New Orleans?
Matt: New Orleans? That's the place where women take off their shirts for beads, right? Yes, I believe Rebekah should live in a city with this tradition.


Steve: Obviously she should. Not because her desire for humanity and contempt for Klaus aren't valid, but because - let's face it - things have gotten pretty boring in MF these days.


Miranda: If Rebekah wants to be human she can be human anywhere. Plus I feel like watching her try to change her niece or nephew's diaper would be hilarity. So yes, she should go to New Orleans.

Which new character is most intriguing?
Matt: Camille. As mentioned above, she's clearly a scarred individual. And she connects with Klaus in a way Caroline never has. And she appreciates fine art and she can mix a mean drink. And she's a Black Belt?!? Forget Klaroline. Say hello to Claroline!


Steve: Marcel. Hard to play the "random protege who overtook the master" angle without totally overselling it, but he established himself as a worthy adversary for Klaus and a charismatic fella with a quietly commanding presence.


Miranda: So far, it's definitely Marcel. Sophie's the token witch and Cami is the token blonde human for which Klaus will undoubtedly develop feelings. He does have a thing for blondes. Marcel is this weird, charismatic monster, not unlike his one-time mentor. And he has really, really great teeth.

So... do you hope The CW picks up The Originals?
Matt: Yes. The Vampire Diaries clearly needs to mix things up, as there's really nowhere else to take Klaus, Elijah and Rebekah in Mystic Falls. Morgan can easily carry a series and plenty of seeds were laid out - from Hayley's pregnancy to Marcel's history to whatever he holds over the witches - to make me salivate over the possibility of a TVD/Originals Thursday night block of programming this fall.


Steve: I do. Not because I was overwhelmed by the pilot, but it has potential. I didn't catch myself wishing we could just get back to Stefan-Damon-Elena drama once. The premise of keeping Klaus in New Orleans was fairly believable, even if his arrival there felt forced.  Joseph Morgan, Daniel Gillies and Claire Holt are all terrific. Most other CW fare is beyond terrible. Hard to find a reason not to green light The OGs.


Miranda: Absolutely. See my answer to #1 for but one of my reasons. More Daniel Gillies, please!! Plus, as Steve mentioned, I really didn't find myself wondering what was happening with Damon/Elena/Stefan, but I also think the writers have done a decent job over the past season and a half of making the Originals characters with more depth than just being the resident evil family. I'm excited to see where this show can go and think it definitely has potential!

Tags: The Vampire Diaries, Round Tables