Matty and Jenna's relationship endured a bit of staycation in "Indecent Exposure."
As much as we all love seeing Matty with his shirt off (right, ladies?), he and Jenny are not ready to share a space full time. In fact, aside from the snide comments and general Sadie-ness, Tamara and Sadie ended up cohabitating with a lot more honesty than Jenna and Matty initially did.
However, Matty's long-term staycation is entirely because of his parents.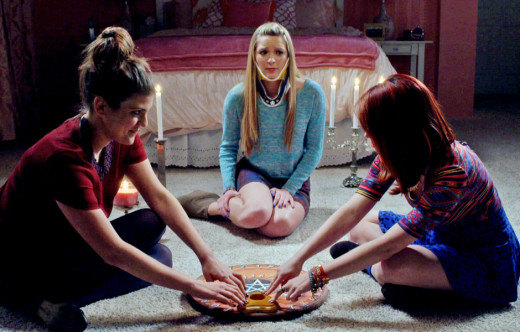 No wonder Matty ends up crying in the bathroom. His parents were entirely unsupportive and uncommunicative last week and then Jenna let a slip that he's running away from them when they were watching the porno; Jenna's mistake was also laden with extra emotion as she killed the mood trying to find the backstory to the woman in the adult movie. Never a good move.
Thankfully, Jenna tagged Lacey into the ring to give Matty the advice and support he needs. She explained to him that their silence isn't about him but their pride. Sometimes kids need to explain to their parents what they need and what they don't.
Nikki Deloach is really doing wonders with Lacey in Awkward Season 3. She's grown into her own as a mother, giving pertinent and timely advice, while still slaying with comedy. There's a lot of grace, wisdom and modesty to Lacey this time around that's been missing.
As much as I love Tamara, her sleepover with Sadie mostly fell flat. With everything going on with Matty and Jenna, Tamara was mostly filler as she keeps up with Sadie. Which is a shame considering how much potential it could have had.
The sleepover wasn't without highlights: Sadie and Tamara's Ouija board back and forth as they channeled Ricky for some answers was awesome, as was the cuddling in the morning.
A Few More Thoughts:
Matty writing in Jenna's journal – I would love a takeover day, and listen to a different point of view.
It would have been nice to hear the rest of the Lissa's confession.
Val's finger mustache.
Nick McHatton is a TV Fanatic Staff Writer. Follow him on Twitter.

Tags: Awkward, Reviews
Want more Awkward?
Sign up for our daily newsletter and receive the latest tv news delivered to your inbox for free!
More From TV Fanatic
Aria finds some interesting clues as she begins volunteering at Radley while Hanna continues to struggle with Alison's return.
With Maura away, Jane must rely on Susie's help to solve the perfect murder on Rizzoli & Isles.
Royal Pains Season 6 Episode 7 When Jeremiah helps out one of her burlesque friends, he grows closer to Vivianna. Paige learns something...
April misses an opportunity on Chasing Life, but can another make up for it? Brenna learns about Natalia Ortiz, which sends her into Greer's arms. Read the review for more.
---