Grey's Anatomy Exclusive: Jennifer Bassey Dishes on "Moving" Three Episode Arc
by Sean McKenna at . Comments
Soap star Jennifer Bassey, famous for her role on All My Children, debuted her Grey's Anatomy character on "Sleeping Monsters" last week, playing the grandmother of the child with whom Dr. Hunt has been slowly bonding.
The gracious actress spoke with me over the phone about her three episode experience, her prepartion for emotional scenes and what's in store for this week's episode, "Do You Believe in Magic."

Read on for excerpts from our Q&A…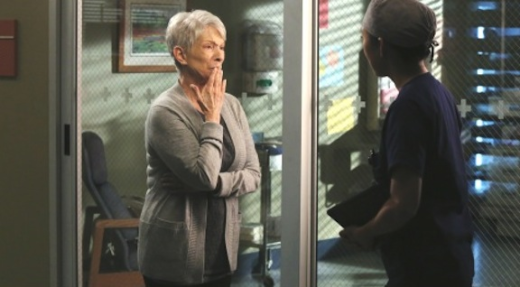 So how did you come about Grey's Anatomy?

I went in with no makeup. I felt that's what the role should look like and I went in, and I guess I nailed it because it was supposed to be two episodes, and now it turned out to be three. They called and when I got onto set, the makeup artist from All My Children was on there and she said, "Oh, I'm gonna make you up." And I said, "I think they want me the way I did the audition, with no makeup." Everyone was saying how brave of you to do that, but it's not brave. There's a lot of older women who don't wear makeup and I think this is one grandma who doesn't.

It was an incredible time and the one [episode] coming up is really juicy with lots of interesting twists. Absolutely heartrending.

Was this a show you were advocating for or one your agent simply got for you?

Yeah, I mean you do the appointments you're sent out on. I must say, I don't watch a lot of television, and I turned on Grey's Anatomy and I burst into tears. It's a tearjerker show, my god. They just get you to tears.

I got to work with Jessica Capshaw, Sandra Oh, Patrick Dempsey and most of my scenes were with Kevin McKidd. He was adorable, charming witty and funny. He even directed this Thursday's episode as well as stars in it.

Was it a lot different working on Grey's Anatomy than working on soaps?

Well, I've done a lot of my time in the 80s and 90s, sitcoms and hour long shows, but Grey's has it down pat. What I mean by that is my manager kept saying to me, "Well how could you be leaving and come right back? You're not even there," and I said that they call you in when they know you're going to use you, and when you get in, you're in your trailer for about a second. Then you go to rehearsal right after your hair is done, rehearsal is right on set, and then you're driven back to your trailer. Then they come get you, you film it, and you go home. I mean, you don't do a long day. You're in and out pretty fast, and I did nine days. There's was only like one time where I waited half an hour to go to set.

Everybody has worked here for many, many years and they know exactly what they have to do and how to do it, so they've got it down to a science, especially in the hospital.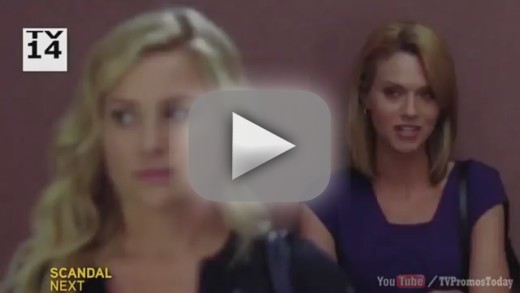 So did you feel like you fit in pretty seamlessly?

An actress named Enid Graham, she played my daughter in law, was fabulous. We became friends really quickly. And Kevin [McKidd], I started talking to him about Scotland and we were off and running because Scotland is one of my favorite countries. Everybody couldn't have been nicer darling. I mean it felt like you fell into a happy place. One of the assistant directors said, a lot of these shows are miserable but ours is not one of them.

I was in my trailer and there was a lot of noise, and I opened my door and Patrick Dempsey said "Are we making too much noise?" and I said no, I just came out because I'm going to bring my contact over. He said welcome to the show and I said what a great show. He said, "We know how lucky we are. We are all very happy and very grateful."

What was the best part of working on your three episode arc?

The best part was doing three episodes. Three weeks ago, [Grey's Anatomy] was the number one on the Nielson's rating, and I got to tell you, after nine years, it's very rare that you're number one.

I loved the character [I played], I loved working with most of the stars, and I loved [getting to be] emotional and crying. It's one of my favorite things, playing the deep pain. I just really loved the whole experience.

What was the hardest part?

In the first episode, I had to cry a lot and they did about maybe 13 takes in that scene with closeups and everybody. They said why are you doing a full out performance every time, and I said because it impacts the other actors as well. If I just walk through it, I don't think that's right to do. In other words, I had to cry and sob 13 times. It was a lot and they gave me a box of Kleenex for when I cried. I had tears all over my sweater. That was a hard day emotionally just because it was exhausting. Most of the other stuff I'm with my grandson and Dr. Owen Hunt, so we didn't do that many takes when I cried, so it was different.

How do you prepare for emotional scenes like that?

If I'm involved in the scene as a a character and it's emotional, I can cry as that character in the situation that character's in. If I'm thinking my son is going to die, that's pretty horrendous. If I'm going to cry right at the top of the scene, one of my manager's cats (who's been with me for two and a half years), we had to put him to sleep. What I do is think about him on that little table, we got a towel for him and a little thing around his leg. They say "now the first shot is going in" and by that time tears are streaming down my face.

Was there any favorite scene you filmed?

The one that is coming up.

What can tease up this Thursday's episode, "Do You Believe in Magic?"

Well there's going to be a major struggle, for me and my grandson. It's going to be heartrending. It's Grey's Anatomy, you know? It's going to be very impacted and very involved with family and our characters in a way that you will be moved. It's very moving, I can tell you that, and with some amazing twists. When I read the script I went, "Oh my god!"

Sean McKenna is a TV Fanatic Staff Writer. Follow him on Twitter.

Tags: Grey's Anatomy, Exclusives, Interviews