Well, that was underwhelming.
I'm not sure what I was expecting, but something that low key to drag Nick out of his kiss of the crazy certainly wasn't it.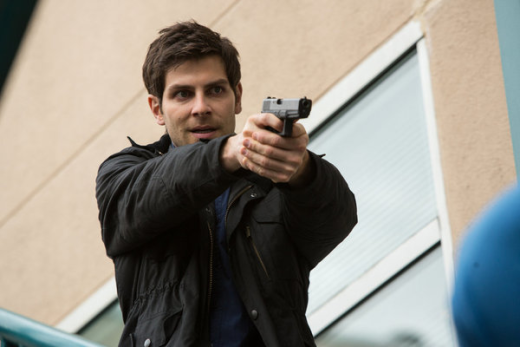 I can see what "Kiss the Muse" might have been trying to pull off with Nick and Juliette, but when the two of them have been locked in a near endless relationship of boredom throughout Grimm season 2 …I would have liked a little passion to break him out of it.
Not a staring contest.
It can probably be spun that Nick and Juliette's love is deep and strong enough to not warrant any need for passion to break a curse, but Nick and Juliette are also trying to find their way back to each other.
While Juliette was still discovering her old memories and feelings for, Nick it was made abundantly clear that those feelings aren't staying the past. She not only wants to continue rediscovering what she has with Nick but build on them.
I like Juliette rediscovering her memories and I like watching the feelings she remembers wash over her like they're completely new again; but it's time to move on. This has been a close to literal season long story arc. It's time to bring it to a close.
I'm beating a dead horse here, but the longer Juliette and Nick continue along in this stagnation the more likely I am to root for them to never get back together. Yes, there are posts along the story that need to be crossed, but all the necessary ones have been dealt with. Renard is out of the picture, Juliette figured out how to look at one memory at a time, she went back to the trailer and she has a vague generalization of the Wesen world.
"Muse" did offer some stand out moments. Rosalee got to visit the trailer for the first time and watching her take everything in with wonder and awe until Monroe reminded her of how a Grimm usually deals with business. The group element really worked flawlessly tonight when Nick needed it. Everyone on the team did what they could to get to the bottom of what Nick was going through.
A Few More Thoughts:
Renard making sure Chloe got the message to get out of town: is it because of the danger she put Nick in and therefore his plans, or did it have something to do with Juliette?
Russell Hornsby really did hurt his Achilles.
The street painting was phenomenal.
Monroe  should've invited Rosalee over when Nick didn't show.
Nick McHatton is a TV Fanatic Staff Writer. Follow him on Twitter.

Tags: Grimm, Reviews
Want more Grimm?
Sign up for our daily newsletter and receive the latest tv news delivered to your inbox for free!
More From TV Fanatic
This week on The Last Ship, Danny gets sick and the crew begins to panic. Is it the virus? Meanwhile, Rachel's vaccine trials continue to fail.
Who was able to successfully problem solve on The Rachael Ray Show this week? Find out now in our review of Food Network Star.
The Masons are reunited on Falling Skies Season 4 Episode 6. Will it be a happy or contentious reunion?
What took place on The Real Housewives of New Jersey Review this week? Read our rundown to find out!
---