Early on in the run of Nashville Season 1, the show did a good job of either pairing its interesting characters together or pitting them against each other.  "Take These Chains From My Heart," and what seems like a majority of the run in 2013, has failed to do so.
What drew me into the series, aside from the great musical performances - which we got basically zero of in this hour - were the relationships between Deacon and Rayna, Deacon and Juliette and Rayna and Juliet.
Other than the epic romantic engagement between Deacon and Rayna at the end, and the mini fight between Deacon and Juliette, we were basically treated to none of those great dynamics.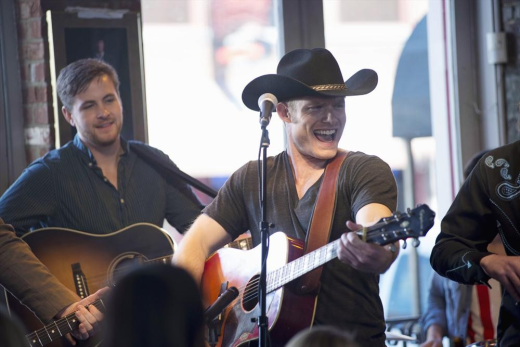 Instead, they've introduced new characters that have done nothing but limit our favorites' abilities. Dante, specifically, completely destroyed my enjoyment of Juliette. Every time they were seen together I wanted to just move on to what was next.

The Rayna and Liam pairing has been less than awesome, and while I enjoy the veterinarian in and of herself, the lack of passion between her and Deacon could never compare to what Raycon or even Deacolette brings to the table.

With Dante out of the picture - he threw away his cell phone, he's never coming back - I'm ready for Juliette to move on to something much more interesting.

Now that Rayna and Deacon did the nasty, I'm ready for that to continue...and continue...and continue some more. If it's what Deacon wants, it's what should happen. That guy can do no wrong in my book.

The only story that has benefited greatly from the introduction of a new character was the Kid's Club. Chris Carmack's Will has been a breath of fresh air for those annoying kiddos. Sure, his character is a bit over-the-top, but at least it brought some life to the arc.

I did, however, take issue with how completely obvious it became that he was gay, and was quickly going to make a move on Gunnar. If you want to shock the audience with this fact, don't have Will staring Gunnar down with googly eyes for five straight minutes of screen time.

With the more interesting characters being dragged down as of late, Nashville has suffered, because as we know, there are a couple of stories that could have been left out to pasture a while ago.

Any time Teddy, Coleman, Lamar, or Rayna's sister come on screen, it's about time to start tuning out. Seriously, there was one scene during this hour - when Coleman and Tandy were chatting - that I would have benefited from falling asleep. Just a quick cat nap could have done me good and I would have been spared from watching this lackluster plot.

With some changes for our favorite characters at the end of "Take These Chains From My Heart," could the final month of Nashville's first season pick up? Will things get back to the level they were at when we first fell in love with the show?

What did you think of this week's ep? Did you have as many problems as I did? Was this your favorite episode yet? Or were you just happy to have these Nashvillians back on your TV screen?

Nashville Note of the Night: Who could tell what bar Will was playing in on Broadway? Well, windows on multiple sides of the building should have been a hint.  It was Rippy's.

Dan Forcella is a TV Fanatic Staff Writer. Follow him on Twitter.

Tags: Reviews, Nashville