I'm incredibly sad that Scandal is over until the fall, but also kind of relieved because now I can breathe again on Thursday nights. This show is insanely good and worthy of every single accolade it has earned in two seasons. 
Insanely good. So good I had to say that twice. 
"White Hat's Back On" was the perfect angst-riddled ending to such a crazy season. And that was one hell of a cliffhanger.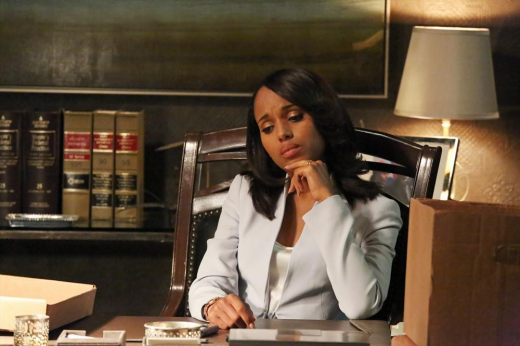 The hour started with the team already knowing that Billy Chambers was alive and well and while I'm not sure how they figured that out, I'm happy we didn't spend time showing it. The fact that he wasn't actually dead was well-written by Abby's thinking he had just gone underground and Huck's mini-rant about getting the job done correctly.
Huck: It's true what they say. If you want someone killed right, you've gotta kill them yourself.
Abby: Somebody stitch that on a pillow. | permalink
How very...Huck-like? But he was right. By not taking care of Billy Chambers himself and hiring the job out to Charlie, he left them vulnerable. Charlie, who is a spy who trades in secrets, saw value in keeping Billy Chambers alive, so that's what he did. Theirs became a mutually beneficial relationship where secrets were exchanged and both, most likely, profited from the sharing.

When he once again found himself naked and laying on a tarp, Billy had no options left but to reveal the location of the Cytron card or die. Huck's misgivings about the ease with which Quinn is taking to the spy training were eerie and perhaps foreshadowing a slippery slope down which Quinn might fall next season.

When Huck couldn't torture Billy for the information and broke down, I also broke. But when Quinn picked up the drill and seemed gleeful and later exhilarated, I was kind of intrigued. Just a few months ago we watched Huck revel in his love of killing and now Quinn is on her way there while Huck has lost the taste for it completely. It's an interesting development.

Unlike with Charlie, whom he could promise money, Billy used a good ol' dose of disdain to sway David Rosen. By playing to David's sense of injustice over how his life had turned out since the Cytron card was stolen, Billy was able to persuade David to hand over Defiance. Billy's plan would have been evil and magnificent if only Billy were smarter than David, and after tonight, I'm beginning to think that David's the smartest of them all.

He completely faked his double-crossing. 

I knew he was a good guy! I knew it! After he handed over the card to Billy, I thought all was lost. Defiance may have cost David his job and his life, but in the end it helped him regain an even better position. He could have blown the whistle and gone public with the information on the final Cytron card, but he's seen enough in his short tenure with Pope and Associates to know that when people need to be dead, they have a tendency to end up that way. He was smart to use Defiance for personal gain instead of to try to right the wrong committed in the first place. 

I expect we'll see a David Rosen with renewed senses of rule-following and justice for Scandal season 3. And I expect he'll have a hard time seeing things in black and white after his tenure with Olivia. 

Speaking of time with Olivia, what a night she had.

Fitz loves her and wants her to be the next FLOTUS, but that can't exactly happen because there are things like the fact that Fitz killed Verna standing in the way. Cyrus was given an ultimatum that sends him into cardiac arrest and then a trained assassin showed up to Olivia's house. Jake intercepted the assassin and knew that by doing so, he basically signed his own death sentence.

I don't particularly ship any pairings on Scandal over any others. I try to look at all of them for their merits and their flaws and all of the relationships we've seen so far have been full of both.

But there was something about Jake and Olivia that I liked a great deal. Maybe it was Scott Foley's charm, or the easy way he refused to let her off the hook. The ways in which he challenged her.

Sure, he was creepy and obsessed, (Hey, I did say all the relationships were flawed.) but because of his concern for her, he gave up his entire career. She wanted to fix things for him, or at least to try, but he refused, knowing that it probably wouldn't work.

Jake walked away from his life for Olivia. Fitz talked about doing that, has said it half a dozen times or more that he'll just stop being President, but Jake did it. All because her father wanted to see her and Jake was afraid for Olivia's life.

If there's ever a time to say "I didn't see that coming" it's now. Because I did not see the head of B613 - Jake's boss, the reason Huck is Huck, THE BAD GUY - being Olivia's DAD.

He couldn't just pick up the phone, say "hey, let's grab lunch!" He had to have Jake spy on her for months and then give him a mission to sleep with Olivia. Then he collected the video footage for use at a later date. Talk about daddy issues.

I cannot wait to learn the backstory on this. What's his motive in wanting to keep Olivia and Fitz apart? Is it strictly professional? Does Fitz have more skeletons in his closet? Does Cyrus know that Rowan is Olivia's dad?

Olivia is the character about whom we know the least and this is the kind of bomb that gets dropped in our laps when there's four months until the show returns. 

That she was outed as the President's mistress, either by Mellie or Daddy Dearest, or perhaps someone new entirely, is an interesting turn of events. The plan Olivia came up with for she and Fitz to be together before she sent him back to Mellie was a good one. Rock solid. Even in spite of all of Cyrus' admonishing about all the ways it isn't meant to work between the two of them.

I found myself contemplating how a plan like that would work in the real world for a real President and I have to say, I bought it. All of it. The plan would have worked. But for Olivia, the question was "at what cost"?

Yes, Fitz is her one true love. But he's married. And the President. And things didn't work out so well for Romeo and Juliet. And besides all of that, Huck, Quinn, Harrison and Abby are her family. To be with Fitz, she would have to abandon them, and that's not something she's willing to do.

Scandal season 2 ends with Olivia affirming her commitment to her team, people she'll rely on heavily as she becomes her own client in the wake of her own personal scandal.

What did you think of "White Hat's Back On?" Did the Scandal season finale live up to the hype? Were you shocked by the reveal of Olivia's father?

Miranda Wicker is a Staff Writer for TV Fanatic. Follow her on Twitter.

Tags: Scandal, Reviews