Mindy's relationship with Casey hasn't been the fairytale romance she probably envisioned, but at the start of this week's episode the two shared a shower together in what was one of the funnier scenes of the season. 
Hook ups in the shower don't always go like you see in the movies, with the steam rising to the ceiling and hands braced against the glass. In a way the awkward encounter in Mindy's shower/tub combo was much like her and Casey's relationship. Both hot and cold at times, a bit messy, but cute in the end. When Casey broke the news about going to Haiti for a year, Mindy's boyfriend bliss went down the drain.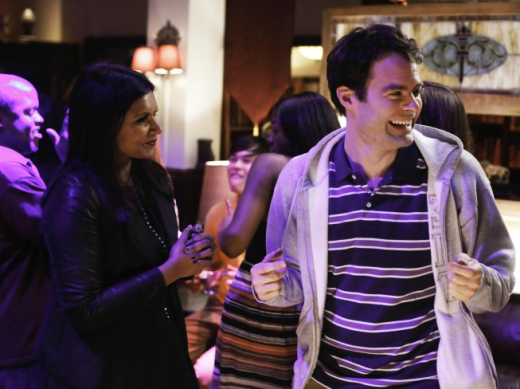 "Frat Party" also appropriately featured numerous scenes with the guys, as Jeremy and Danny tried to get Morgan to come back to the practice.
Danny - usually the assertive one - took a back seat to Jeremy, who visibly lost his cool when Morgan told him he was going to stay with the midwives... or "new age tossers" as he called them. Normally the more even tempered of the two male doctors, Jeremy was wearing his heart on his sleeve, as we saw his emotions get the better of him when talking about how his brothers locked him in the family wardrobe.
Morgan earlier turned down a higher salary offer from Danny and Jeremy, but when they showed up at his door with a new puppy, they had him eating out of their hands and ready to party.
Morgan: I'm gonna gel up and put on my dragon shirt. | permalink
Creating a believable party scene on screen is an often failed endeavor, but the one Mindy and Katie walked into was actually well done. When Mindy ran into her ex-fiance, though, things got a little ridiculous. I love me some Bill Hader, but that eyebrow ring was hard to look at as he repeatedly dabbed away the blood with a napkin. With my eyes averted, the conversation I heard between the two former flames actually was believable and showed why the two of them were once in love.

While Casey also being at the party was necessary to keep the story line intact I guess, it was a major departure from reality, even for this show. There was little time to nit-pick details as the fight between Tom and Casey broke out. Morgan tried to keep the peace and spare the foosball table, but when a fraternity brother challenged him, Danny stepped in with a hard cross. I love when Danny gives in to his natural impulses like that.

A hammered Casey covered in Sharpie produced one of the biggest laughs from me when he asked Mindy if she wanted to go to a diner moments after puking on himself. In the closing scene he was spot on again, but this time sober and serious about how he felt for Mindy. The whole picture he painted about wanting to be Mindy's tater cone boy and cater to her every pregnant craving one day was a nice recovery for the man of God.

I initially thought this episode was closer to a "3" after the extreme poetic license taken with the party, but looking back, the episode did manage to avoid several potential pitfalls while featuring come good fun this week.

Tags: Reviews, The Mindy Project
Want more The Mindy Project?
Sign up for our daily newsletter and receive the latest tv news delivered to your inbox for free!
More From TV Fanatic
The Mindy Project Season 3 has cast Danny's mom. Find out which veteran actress has nabbed the role.
On Tyrant, Bassam attempts to find a peaceful resolution instead of a revolution. Will he succeed?
On tonight's Covert Affairs, Annie and Auggie switch jobs and head to Paris. Will Auggie succeed in the field with Annie as his handler?
A leg went flying on The Real Housewives of New York City this week. You must read this review.
---