The Mindy Project Review: The Amazing Race
by Chris O'Hara at .
I had forgotten all about Morgan sending Danny's letter to his ex-wife, but it all came flooding back to me when guest star Chloe Sevigny appeared on screen.
When Danny fired Morgan, my shock matched that on the faces of Mindy and crew, but Morgan did cross the line. By the end of "Triathlon," though, it was Morgan who helped Danny cross the finish line, yet turned his old boss down when asked to come back to work. Yet another interesting twist.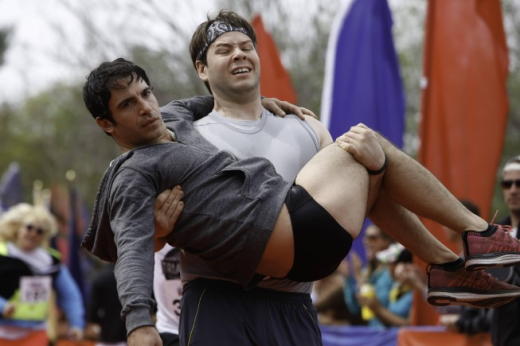 Sevigny's character tried to enlist Mindy's help to get Danny back, while Mindy's relationship with the episode's other guest star (Anders Holm) came close to falling apart.

We have yet to see religion play a big part in Mindy's life, but when Casey mentioned her possibly converting to Christianity she embraced her Hindu heritage. It doesn't define her, but the thought of abandoning her faith just did not sit well. Apparently that wasn't the only thing making her uneasy, as she vomited at the race, forcing Danny to step up, put on her shoes and try to best Morgan in the final leg. 

Betsy was cute as she tried to help Mindy explore a new religion and made Mindy's Sons of Anarchy reference possible. 

Mindy: It's like Sons of Anarchy in here, okay? And none of the young hot characters, just like, the old ones.

There were some subtle jokes like when Mindy thought Betsy said she didn't like New york City bagels because they were "jewy" instead of "chewy." I also loved her Shopping is My Cardio tee. I'm not sure if I admired or pitied Casey as he kissed Mindy on her vomit-scented mouth, but that was some affirmation of his feelings for her.

Danny, meanwhile, reached out to Christina and made plans to meet up. Any chemistry the two doctors were building as of late seemed to be shelved for the foreseeable future. 

Which couple do you think will last longer? 

Tags: Reviews, The Mindy Project
From Around the Web