Warehouse 13 Review: Facing our Mistakes
by Jim Garner at .
"Parks and Rehabilitation" reminded us that we all make mistakes; it's facing them and learning from them that allows us to grow.
I wondered last week if Artie was going to be able to recover from Leene's death. While he does have a long road ahead of him, at least he got on the path to recovery when he realized he can't do it all alone.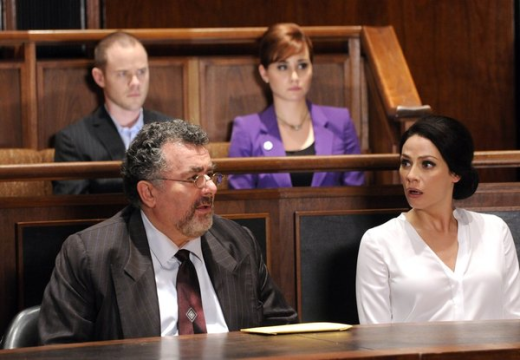 Artie had been warned that using the astrolabe would result in there being an evil he would have to live with the rest of his days. Remembering that he killed Leena while under the influence of the astrolabe seems like its fits rather snugly, albeit unfortunately, beneath this umbrella.

Seeing Artie trying to do all of Leena's work without asking help was so touching. I just wish they had shown more of what Leena did over the last three-and-a-half years, it would have made her feel like a bigger part of the Warehouse and would have added a little more emotion to scenes. 

That said, watching Steve take over the job of determining the emotions behind an artifact tied beautifully into his Buddhist background. I'm still curious if we are going to see a new team member recruited for the Warehouse team.  

I enjoyed the change up with Claudia and Pete going out on snag-n-bag run while Mkya and Steve stayed back at the Warehouse with Artie. Pete and Claudia have such a brother-sister relationship; it is fun watching them play off of each other. 

The story with Autumn, Ryan and his brother Evan was beautifully woven into what was going on with the team. Autumn explaining to Claudia that she had to stop Ryan by turning him in for his own good was exactly what Claudia needed to hear so she would know that she and Artie would be okay. I had a few tears in my eyes when she and Artie hugged. 

Finally, was anyone surprised that Pete was a bit obsessed with Yogi Bear? Yeah, I wasn't either. As much as I wanted to be annoyed by the overuse of Yogi, I couldn't do it. Pete is just such a big kid and Eddie McClintock has so much fun with him. 

In conclusion, I'm giving this episode 4.5 stolen picnic baskets in honor of Pete and Yogi. Here's hoping Ranger Smith doesn't come looking for him at Warehouse 13! 

Jim G. is a TV Fanatic Staff Writer. Follow him on Twitter.

Tags: Warehouse 13, Reviews
From Around the Web