It's been a pretty good summer so far, but it's about to be pretty great.
That's because Pretty Little Liars Season 4 kicks off on Tuesday, with new twists, new turns... and a new guy for Aria!
So teases Lucy Hale in a new interview with Entertainment Tonight, as the young actress takes a look ahead at her character's love life, feelings on Mona and a lot more. Read the full Q&A with Hale now and scroll down for a few excerpts...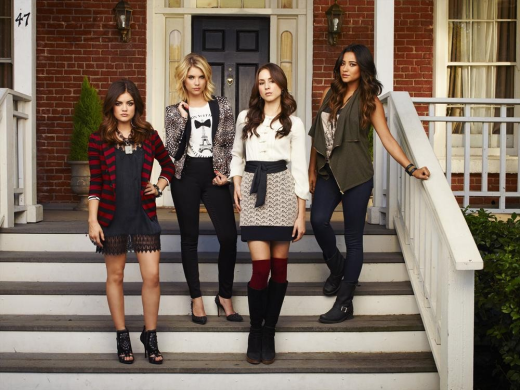 On the Ezria split: "My personal opinion is a reunion is inevitable, but Aria does her own thing this season. She's dating, she's meeting new people, she falls for a new guy and that's good. I think she needs to live a little."

On whether Aria believes Ali is a goner: "Aria thinks they're all crazy. Ali's dead. She knows Ali's dead. So she's trying to keep the girls grounded, basically telling them, "You're insane!" Out of all the girls, she's the only one who thinks this."

On Mona: "She doesn't trust her. Not one bit. Aria isn't very forgiving of everything she put them through. I think Hanna is the only one who kind of does -- which is crazy because out of everyone, Hanna should hate her the most. Aria doesn't think Mona is A anymore, but knows she has valuable information."

Hale also said the Halloween episode that leads into Ravenswood is the most "shocking" in show history and that she had one reaction when learning what's in the trunk, which will be revealed on the June 11 premiere:

Disgusted.

Tags: Pretty Little Liars, Lucy Hale, Interviews, Spoilers