Predator or prey. It was hard to determine who fit which category on tonight's Necessary Roughness, as "Swimming With Sharks" featured everyone choosing sides and I'm still uncertain where some characters landed.
Dani definitely had her hands full at V3. Not only was she dealing with the company's clientele, but Connor was loaning her out to the competition. Or was that using her as bait to catch a whale.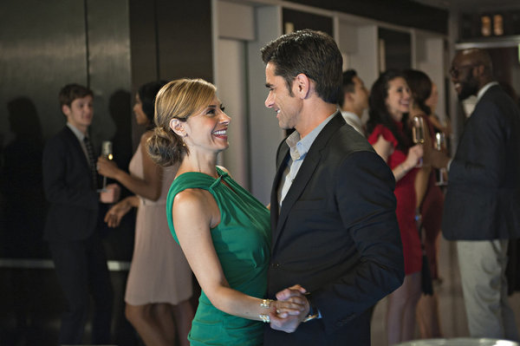 Whatever the metaphor, it obviously worked. Devin got his free throw back and also received help dealing with his overly dramatic, far too co-dependent mother. 
Speaking of mother/child relationships, Dani couldn't seem to get RayJay to call her back. Maybe it was just the time difference... or maybe it's the hot, rich girl he's still hooked up with. 
Even Lindsay was growing up and drifting away. When it came to buying the teen a car, she didn't so much want Mom's opinion as much as she simply needed her to sign the check. But Dani played their Friday night date just right. If she had become angry it would have made it all too easy for Lindsay to walk out the door. Sadly, letting the girl off the hook made Lindsay feel guilty, which scored them both a dinner date on Sunday I'm sure the girl will keep.
Back at V3, TK made it to his one year anniversary of sobriety. That's a big deal and I didn't blame him for wanting to go out and celebrate. And how awesome was it that TK wanted Rex by his side when he hit the club to pick up girls. As he explained in this Necessary Roughness quote…
Rex: You want me there for what exactly?
TK: You're Goose. I'm Maverick. Perfect wingman, Bro. We fly different planes and we damn sure land on different strips. | permalink
Even if you've never seen the movie Top Gun I'm sure you still got the metaphor.

Unfortunately TK's hookup was anything but. Abby was the competition looking to woo TK away from V3. I was happy that TK went directly to Connor. The problem was that all of these agents schmooze for a living. How can you possibly tell who to trust?

At least Nico knew not to trust Troy. I loved how quickly Nico spotted that tail. The twist with the hacker surprised me. We still don't know exactly who Nico's working for or what their agenda is with V3.

But obviously Nico still had some real feelings for Dani. Even Paloma could see how different he was with her... and he's not happy that Connor was putting the moves on the good doctor or that it seemed to be working.

Are you Team Nico or Team Connor? I'm still rooting for Nico and Dani to get a second chance but I must admit that Connor McClane's charms are hard to resist. Both men are making this an irresistible season of Necessary Roughness. 

C. Orlando is a TV Fanatic Staff Writer. Follow her on Twitter.

Tags: Necessary Roughness, Reviews