Murder and mayhem mix as the class divide between the wealthy elite and close-knit group of maids working for the rich collides. Sex, secrets and murder combine with a fun outlandish tone that's sure to make Devious Maids the new guilty pleasure of the summer.
I recently spoke on the phone with Rebecca Wisocky about her character Evelyn Powell, a haughty member of high society Beverly Hills, and the employer of a murdered maid that sets the series in motion.
The actress enthusiastically dished on her "delicious" character, the fun, over the top tone of the season and what's in store for Lifetime's new show.
Read on for excerpts from our Q&A…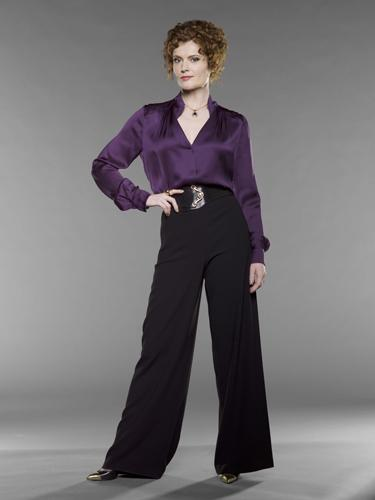 TV Fanatic: How'd you end up coming about Devious Maids?

Rebecca Wisocky: It was a very busy pilots season last year, and I was really excited when I got the script and read the breakdown. She's a pretty delicious and juicy character that's been tremendous fun to play. So, yeah, I was pretty excited to meet [Show creator] Mark Cherry. I'm a fan.

TVF: Did you go in for Evelyn Powell initially?

RW: Yes. I went in for Evelyn, tested the next day and got the job. I could not have been happier.

TVF: How would you say Evelyn describes herself compared to how the maids would describe Evelyn?

RW: I'll say that I describe Evelyn as an evil bitch with a broken heart of gold. So, I think that answers both sides of your question. I think the challenge I find really fascinating in playing a villain is you can't judge her character, you can't believe that she's just an evil person, you know? I think Evelyn thinks that she has good intentions. I think she's morally questionable to say the very least. I think she walks through the world with a great deal of armor that appears to be very slick, regal and cruel, and both terrifying and ridiculous to people that cross her path.

But over the course of the season, you see her soften a bit and you see the reasons why the way she is … at least I hope you do because that's what we tried to bring to it. All of the characters become more complex as they intermingle, and you'll know more about them throughout the season.

TVF: What's it like playing Evelyn and getting to say such great lines like, "But who's going to clean up the mess?"

RW: You know the tone of the show you're dealing with, right off the bat with Mark Cherry. It's a soap, it's a satire. It's dangerous, it's campy, it's fun and I think relevant as well. He came in primary colors and then he lets them all bleed together. To say the very least, I have some delicious lines and dialogue with Tom Irwin who plays my husband, [Adrian Powell].

But yeah, I think the character begins in a very hard arch-way and then you'll see her soften.

I may have a slightly masochistic streak because I really enjoy playing those characters that are punished for their hubris. I like that. I think it's interesting. I'm a character, so I don't mind being unlikeable or unattractive to be the foil for someone else's story.

I think in Evelyn's outrageousness she can be delicious as well. I hope she will be a character that you love to hate.

TVF: Why does a tone like this work for the show?

RW: I think it allows you to flip the script a little bit. It's a satire. You can say absolutely outrageous things and put people in incredibly extreme over the top sexualized situations in order to tell a story, in order to teach a lesson, in order to show something from a different angle and get a conversation started.

TVF: Can you talk about Evelyn's relationship with her husband and then working with Tom Irwin?

RW: Well, I love Tom Irwin. He's one of the best scene partners I've ever had. He's become a very good friend, I love this relationship [between our characters]. It's kind of classic. You don't see a whole lot of this in the pilot, but he actually has a great deal of power of Evelyn. It's a love, hate relationship. I think you find out through the course of the season what keeps them together. They're their own worst enemies and the source of the greatest pain for one another. They are also the only people that can comfort one another.

TVF: Evelyn and her husband clearly have a lot of secrets. Is that something we're really going to delve into this season?

RW: Oh, yes. That house is big and has a lot of secrets inside of it. Lots will be revealed in that house, I'll say that.

TVF: Do you personally already know who the maid murderer is?

RW: You will know by the end of the season who killed Flora. The murder will be solved.

TVF: What's been the best part about working on the show?

RW: The cast. It's really true. It's been so fun and I hope we get to do more. There's so many people on this cast. I mean, Ana Ortiz [who plays Marisol Duarte] just raises the bar. She's so tremendously talented. Judy Reyes [who plays Zoila Diaz]? These people are incredibly talented and all so unique and from so many different backgrounds. I mean, there a lot of theater people that are on the cast. Tom is from the theater world, I come from the theater world, as well as Ana and Judy. That adds a lot.

TVF: Has there been anything that's surprised you?

RW: I've done a bunch of pilots. I've recurred on a bunch of shows. I've guest starred on a bunch of shows. I've been pretty lucky to play a wide range of characters, although I've often played a villainess. It's been my first experience in television having a role that can build and change throughout the course of the season.

TVF: What can you tease about the premiere?

RW: A lot of fun. A lot of mouths will be agape. A lot of outrageous behavior. Some comeuppance for people who deserve it and some for the people who do not. A lot of style and I think it's beautifully shot. The look of the show is gorgeous. … It's pure escapist heightened satire.

Dive into the delicious Devious Maids when it premieres Sunday, June 23 at 10 p.m. on Lifetime.

Sean McKenna is a TV Fanatic Staff Writer. Follow him on Twitter.

Tags: Devious Maids, Exclusives, Interviews