Rizzoli & Isles season 4 returned with "We Are Family" - and the summer has officially begun!
One of the best things about Rizzoli & Isles is that the characters really do feel like family and they've only grown closer throughout the four seasons.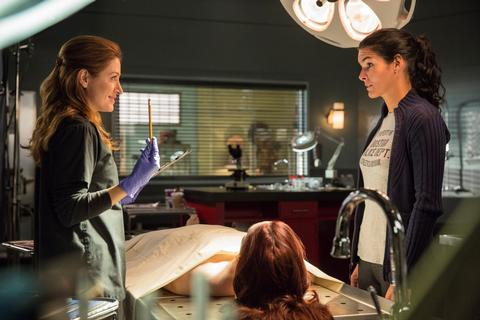 Who would have thought that Maura would need someone to drag her out for a jog? But depression certainly impedes recovery and Maura had plenty of reason to be depressed. Even if Maura did tell Hope to leave her alone after the surgery, Hope should have reached out at least once, if only to say thank you. The woman she shunned upon learning she was her daughter donated a kidney to her other child. A fruit basket is the least that was owed.
Poor Maura was sulking and melancholy and just completely un-Maura-like. It was hard to watch. But even in her depression Maura was funny. I couldn't believe she Facebook stalked Cailin and then spied on the pumps of caramel she was putting in her coffee. Thankfully, Jane was there to force Maura out of the car to actually speak to Callin.
Maura: I feel very silly.
Jane: You're going to feel even sillier when I push you out with my feet. | permalink
Finally talking to her half-sister and hearing that belated thank you definitely helped. 

Maura even looked different this season. The short leather jacket with the gold top was more casual than we normally see her but looked stunning just the same.

Something tells me Paddy Doyle's trial and Maura's complex relationship with Hope will make this a complicated season for Dr. Isles.

Fortunately, Jane's personal life was looking up. Cassey was back. He just showed up on her doorstep looking all handsome and recovered from his surgery. Part of me wanted Jane to send him on his way for not calling her for three months, but then he mentioned his therapy and PTSD... and did I mention the ruggedly handsome part?

Jane deserves some happiness and I hope she gets it with Casey. The two range from hot to adorable and I loved seeing them back together. 

Even Frankie's life was changing. He's getting that promotion to detective and you could see the boost of confidence it's already given him when he wouldn't give his gun up to his big sister and took the lead as they tracked down the shooter.

Speaking of the case, was anyone else holding their breath during the parade scene in the beginning? I know this is fiction but I couldn't help but remember the Boston marathon bombing. 

The case had some great twists and turns. Who knew that toxins attached to work uniforms could be potent enough to cause cancer over time? That's truly scary. 

And talk about cold. Erica's sister was not only willing to let small children die of cancer she murdered her sister while taking care of the woman's toddler.  That's really dark and twisted.

Compelling cases, family drama, and two good friends who can get one another through anything. It's just not summer without Rizzoli & Isles. 

C. Orlando is a TV Fanatic Staff Writer. Follow her on Twitter.

Tags: Rizzoli & Isles, Reviews