With Rookie Blue returning this Thursday night with "Different, Not Better", we got to speak with Greg Smith about his alter ego, Dov Epstein.
Greg let us in on the challenges of directing, what happens after Dov's bathroom hookup, and the shockingly intense season to come. 
-------------------------------------------
TV Fanatic: You directed an episode last season. Will you do any more directing during Rookie Blue Season 4?
Greg Smith: Yes, I direct episode 12 this year which is part one of a two-part season finale. It's a really intense episode. I think it's going to blow people's minds.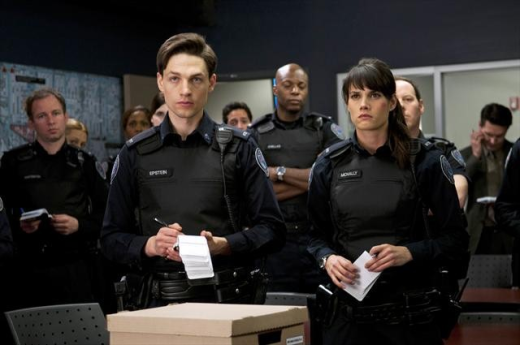 How much of a challenge is it to act and direct in the same episode?

It's quite a challenge. It's very overwhelming, especially at first. The first day or two, there's just so much coming at you at once. As an actor and a director, they require the two polar opposite sides of your brain. What makes you good at one makes you bad at the other in some ways. So yes, you kind of learn to switch gears kind of quickly and totally. But once you kind of click into a good routine then I think it's incredible and very advantageous to sort of speak both languages.

You've been playing Dov for four seasons now. How do you think Dov has grown over that time period?

All of characters on this show I feel have kind of grown in concert with us as people. When I started Rookie Blue I was mid 20s and was really enthusiastic and excited about putting on the uniform and holding the gun. All of these things were very romantic. As you get more and more use to it it becomes part of a job and that's very similar I think to the characters on the show. Trying to keep the romance alive, not letting the cynicism take over. Just continuing to have fun and the realities of the job mesh with the expectations.

Last we saw Dov, he was having bathroom sex at The Black Penny, so his short term love life was looking up but will he be finding any longer term relationships this season?

There's a long, awkward episode coming up for him with the fallout of that bathroom hookup. And then certainly I think Chloe has a bigger impact on his life than he expects.

Dov told Gail she could move into his apartment. Was that the best idea considering their previous feelings for one another?

Well you know. What's said on percocets stays on percocet.

It looks like Chris is moving to Timmins. Is this the end of the Chris / Dov bromance?

Potentially, which is a really tough thing for both of them.

Are there any story lines you hope to see Dov play out in the future.

Not that comes to me off the top of my head. It's always just nice to kind of be surprised.

If you could star on any other show currently on TV, other than Rookie Blue, what would be your dream job?

There's actually quite a few. I always thought it would be really fun to be on Mad Men. The time period and the wardrobe and the sets and all that. Also it would be really fun to be on Downton Abbey. I think it would be fun to do something that transports you into another world.

Can you give the audience any hints of what's to come this season?

It's a very, very intense season, more so every week. There aren't many specifics I can tease that I haven't already talked about. I think people are going to be shocked by the end of the season.

C. Orlando is a TV Fanatic Staff Writer. Follow her on Twitter.

Tags: Exclusives, Rookie Blue, Interviews