It looks like ABC Family just might have another creepy teen mystery thriller on its hands with the premiere of Twisted. In the pilot we meet Danny Desai, known to many as Beck from Victorious. Hubba hubba.
Danny returns to high school after spending five years in juvenile detention for strangling his aunt. Think this network has a fetish for young murder stories?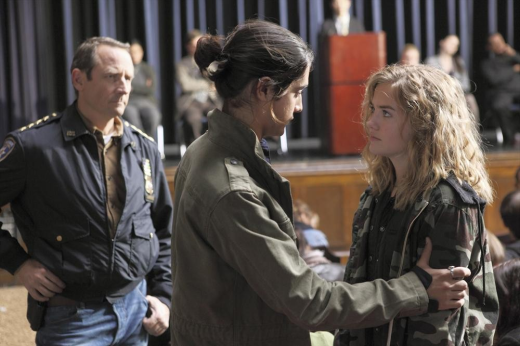 The thing about Danny's story is that he says he can't tell anyone why he killed his aunt. He never told and he doesn't plan to. Which makes things all the more interesting when he later gets a text from Regina say she knows why he did it.

I have to say, for a teenage killer, Danny is pretty damn charismatic. He cracks jokes about Glee and handles a girl bully by commenting on the facial hair problem she had in fifth grade, which I will fully admit I laughed at. His former best friends, who were there the day of the incident, are intent on ignoring him but are easily drawn back into his path. Danny saves Jo from a pushy drunk classmate. Lacey later ends up spending the night catching up. Though Lacey and Jo are now in opposite crowds, they will always be bonded by what happened.

Do you think it was easy being the best friends of the child murderer? 

After Lacey crashes eating too many potato chips, Danny gets the aforementioned text from Lacey, along with a few others pleading for him to come over. While we see Danny seemingly reject her and wake up in bed with Lacey on the floor, Regina is beaten to death in her home. Found by the housekeeper, Regina is missing a red and gold necklace. According to the chief of police, it's the one thing she never took off. In the beginning of the episode, the necklace catches Danny's eye and at the end we see him fiddling with it alone in his room.

Of course this is after he denied ever seeing it to the police.

While all signs point to Danny as Regina's killer, it would be far too obvious if that's how everything went down. Per usual with ABC Family dramas, we are left with a million questions. Why did Danny strangle his aunt? Why can't he tell anyone why? What's the deal with the necklace? Did he meet up with Regina? 

The show is pretty well written with good dialogue and interesting casting. Denise Richards stars as Danny's widowed mother, who won't stop championing for her son and hottie Grey Damon stars as Lacey's boyfriend. Danny himself is probably the biggest draw, though, managing to peak your interest despite the crime we know he committed. 

Is he the sociopath everyone thinks he is? Hit the comments and let us know what you thought of the series premiere of Twisted! Grade it now:

Leigh Raines is a TV Fanatic Staff Writer. Follow her on Twitter.

Tags: Reviews, Twisted
Want more Twisted?
Sign up for our daily newsletter and receive the latest tv news delivered to your inbox for free!
More From TV Fanatic
On the latest episode of Satisfaction Neil learns an important lesson about being honest with himself from Adriana while Grace struggles on her new job. Read on for analysis.
Oliver turns down extending his contract as Acting Staff Sergeant until Duncan's dismissal hearing turns unpredictable on Rookie Blue.
On tonight's The Bridge, Marco is made an offer that he initially refuses. Will he agree to go after Fausto?
Things go from bad to worse for Molly on Extant as she tries to escape the prying eyes of the ISEA but chooses the worst place for safety. Read on for a full review.
---