"Runaway" shed a little light on Steve's past when his ex joined the team to catch a prison escapee.
Before we get to Steve and Liam, I really need to talk about my general thoughts on the second half of Warehouse 13 Season 4. The first half was cohesive, really telling a fun and dramatic story with Artie that rippled across the entire warehouse and everyone working in it... but this second half feels rushed and choppy.
Since the midseason premiere, each subsequent episode seems to lose a little bit of depth and complexity in exchange for just a routine artifact retrieval mission. There's been no mention of Charlotte, and the lingering emotions of Leena's death seem to be completely wrapped up.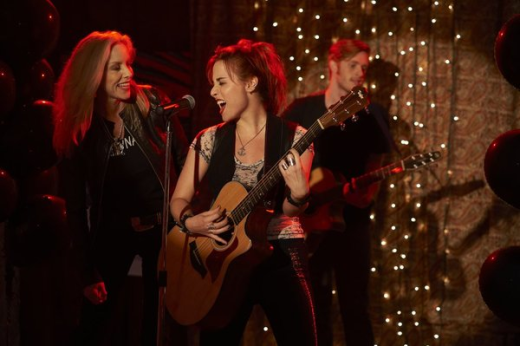 I'm all for the extra humor, but part of the charm is also seeing the longer arcs sprinkled in the rest of the season. Things started out well, as Artie dealt with the consequences of what he did and the introduction of Charlotte and Sutton, but they have been mostly stagnate since then.
Moving on, I've been waiting patiently for Warehouse 13 to start shedding some light on Steve's past. Steve and Liam have great chemistry together and bringing Pete and Myka into the fold instead of Claudia brought about some overprotectiveness out of Myka and, well, more of the same from Pete:
Pete: Okay wait a minute he dumped you? Why would anyone do that? I mean look at you: looks, brains, taste, a deep knowledge of guns and blowing things up. What's not to love?
Myka: Do you need us to hate him? Because we can hate him. | permalink
I had forgotten all about Steve's ability to know when someone is lying and the affects it would have on a relationship. Little white lies are healthy for a relationship because brutal honesty can only last so long; and, while Liam is never being brutally honest by choice, Steve's ability to catch him in the act is basically the same thing – perhaps making it even worse since Steve knows he's lying. Bringing a double-edged sword to the entire process.

Since Liam and Steve do end up leaving each other on good terms - and apparently the sex was great too (would it have killed Syfy to show us a little bit of that action?) - I'm hoping we get to see Liam and Steve together again before the series comes to a close.

Artie and Claudia's adventure, meanwhile, gave Artie the thing he wanted most: spending some time with Claudia on her birthday. It looks like Artie is beginning to get a little bit of empty nest syndrome with Claudia. He's taught her everything he knows and she does almost all of it better than he does. He wants to find a new place in her life and to redefine their bond.

What are you thoughts on the episode?

Nick McHatton is a TV Fanatic Staff Writer. Follow him on Twitter.

Tags: Warehouse 13, Reviews