The action on Falling Skies Season 3 has been upped with the arrival of the Volm and the favorable turn in the fight against Espheni.
Last Sunday ended with two major cliffhangers: Anne and Alexis' capture by the Skitters with Hal's help and the plane crash. After a week of anticipating what would happen next, "Search and Recover" was a disappointment.
The hour felt like a series of counseling sessions. The tree ceremony last week worked because it was the anniversary of the invasion and a time for people to reflect on those lost in the fight. The continual discussion about everyone's losses didn't pull at the heartstrings. They just fell flat.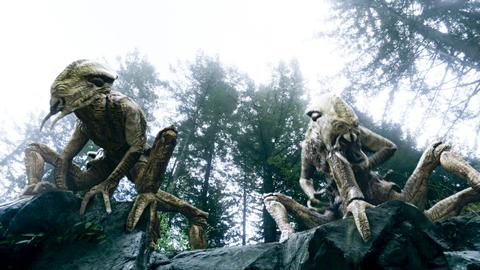 The emotional toll has been more effectively expressed in the past. Even the talk about the Masons' mother was unnecessary. I shed no tears during the episode and I will cry at commercials. With only 10 episodes a season, this was a wasted hour with a lot of talking and not much forward movement in the story.

"Hal" reluctantly went along with the search party. Since he knew what happened to them, it was a surprise he wasn't keeping a closer eye on the investigation. He did briefly awaken when the search team found where the Skitters took control over Anne and Alexis. Hal's odd behavior didn't seem to be noticed by anyone other than Maggie. Will she accept his brush off? Or, push to figure out what's going on?

Another issue I had with the episode is the exchanges between Tom and Pope. These two have always had a challenging relationship, but what happened made no sense. Tom saved Pope's life and then they bonded over their troubled history. Sure, Tom made fun of Pope about not being able to make a fire and that felt authentic. Even the little squabble over the gun after Pope revealed he accidentally killed a man rang true.

Pope definitely has poor judgment and he should have known better than to throw a snake at the sleeping Tom. But, Tom's reaction was so out of character. The brawl between the two of them was ridiculous. I could see a jab or two, but to get so angry that knives are pulled? It felt so wrong it pulled me out of the story. If the Skitters hadn't shown up, they would have fought to the death.

After Tom was hurt from the jump. Pope tried to do the right thing by helping him get moving. At first when Tom pushed Pope away, I thought it was a reverse psychology thing happening, but given Tom's reaction that seems unlikely. If Tom was being noble and trying to save Pope, then it would have been in character. The way it happened just felt wrong.

At least, Pope stepped up and settled the debt by saving Tom's life. Their journey in this episode was odd from moment Pope woke up after the plane crash until they walked into Charleston together. Now that Tom is back in Charleston, he can get involved with whatever Marina is up to.

Could she be the mole? When she brought the Volm project photos to Kadar to investigate and lied about Tom's request, I thought maybe she was the mole. Though, after the two discussed the findings, I'm not so sure. It seems more likely that she's being set up to appear to be the mole. She may just truly be concerned, like Tom, about the Volm's project.

Why would the Volm be creating a device that has a power source in excess of what's necessary to run it? Could the power itself be used as a weapon? That's a mystery.

Did you find the episode to be lackluster? What do you make of Mariana? Could she be the mole? 

Carla Day is a staff writer for TV Fanatic. Follow her on Twitter and on Google+.

Tags: Falling Skies, Reviews
Want more Falling Skies?
Sign up for our daily newsletter and receive the latest tv news delivered to your inbox for free!
More From TV Fanatic
Scott decides to get tough on Teen Wolf after rescuing his Beta by declaring he won't sit back and watch more deaths. Find out what else went down in the review!
Heather and Tamra consider making peace with Shannon on The Real Housewives of Orange County. See what went down in our TV Fanatic review!
On Murder in the First, the trial of Erich Blunt reaches its conclusion. But what is the verdict? Find out when you read the review.
Andi Dorfman chooses between Nick Viall and Josh Murray. Find out who she chose now on our The Bachelorette review!
---