Jim's Notebook: The Walking Dead, The Tomorrow People and Pretty Little Liars
by Jim Halterman at . Comments
Comic-Con may be over but, as you've been seeing all week on TV Fanatic, we're still posting our slew of great interviews from your favorite shows.
Along those lones, I was working in the press rooms and finding time for a few panels so, as I continue emptying out my Notebook, here are a few Walking Dead and Tomorrow People items, as well as a little Pretty Little Liars extra with Shay Mitchell.
Also, I am front and center at the Television Critics Association Summer Press Tour. So keep an eye on TV Fanatic's coverage of all the panels and my exclusive interviews with your favorite TV stars!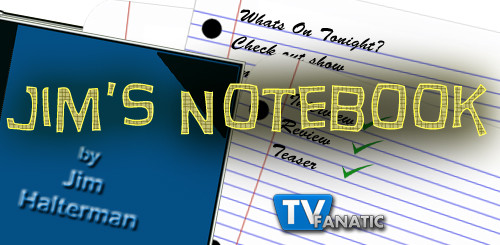 THE WALKING DEAD Unlike the graphic novel, The Governor character did not die in The Walking Dead Season 3 finale. But David Morrissey explained to me why people love to hate his character: "People boo me and people shout at me, but they love him. I think they love to hate him... it's challenging for people because they do like him but it's because every now and again they can see the best of him and it's about with which side is he going to fall? Is he going to go for the good side today or is he going to go for the bad side? And that battle inside him is what they find so interesting about him and what the writers have done so well." 
While we didn't find out when exactly The Governor will show back up, will you be as excited to see him as I will be?
THE TOMORROW PEOPLE As you may have heard, the reboot of the popular British series has a cozy timeslot after Arrow on The CW. It also stars Stephen Amell's cousin, Robbie. With Executive Producer Greg Berlanti involved with both shows, he explained which Amell came first into his life: "I've worked with Robbie actually once before. He'd done an episode of Brothers and Sisters towards the tail end before I worked with Stephen."
Berlanti also shared that Robbie originally came in for The Tomorrow People for the role of John and ended up in the lead role of Stephen Jameson.
Amell is excited for his role mostly because he's not perfect. Says the actor of his character: "He's dark, he comes from a pretty messed up upbringing, his Dad left when he was young, he became the man of the house or at least he's tried to become that, his mom's working double/triple shifts to pay for his medication and his shrinks and that weighs down on him; he's got a lot of stuff hanging over his head."
The younger Amell, who has also appeared on Pretty Little Liars and Revenge, expects audiences will connect with the super power aspect that Stephen and other characters possess: "It doesn't matter how old you are, how young you are, where you're from," he said. "Everyone has dreamt about having them or using them at one time or another so we just hope that people relate to that."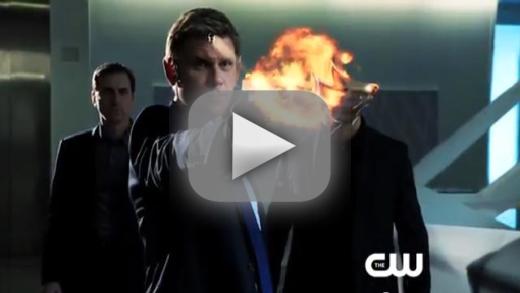 PRETTY LITTLE LIARS While the PLL cast was not at Comic-Con, Mitchell told me recently whether we'll be seeing BFFs Emily and Toby (Keegan Allen) sharing some screen time anytime soon: "They don't interact as much as in the previous seasons, but I mean, there's also been a lot of stuff happening with Toby and Spencer and so Emily has just kind of decided to let them deal with their own stuff and kind of like come out of it a little bit. She'll always be there for Toby and always have Toby's best interests at heart, but I think she kind of lets them work on their own business."

And, like me and probably more than a few of you, Mitchell hasn't quite shaken the image of Laura Leighton (Ashley) in that frightening wig during Hanna's recent nightmare: "I just kept seeing that wig in the hair and makeup room but I never actually saw it on Laura and then when I watched the episode I was in my room like screaming because that was just terrifying. But I can definitely tell you that this season more than others, it is a lot heavier in the parent relationships."

I, for one, cannot wait!

That's a wrap for this week but I'll be reporting from TCAs through August 8! Anything else you're dying to know about your favorite show? Leave a comment here or you email me directly at jim@jimhalterman.com. And remember: follow @TVFanatic for all your TV scoop!

Jim Halterman is the West Coast Editor of TV Fanatic and the owner of JimHalterman.com. Follow him on Twitter.

Tags: The Walking Dead, Jim's Notebook, The Tomorrow People