There were plenty of people looking to get on the fast track to success in "Good Will Haunting."
But, for the most part, they'll only be haunted by their actions.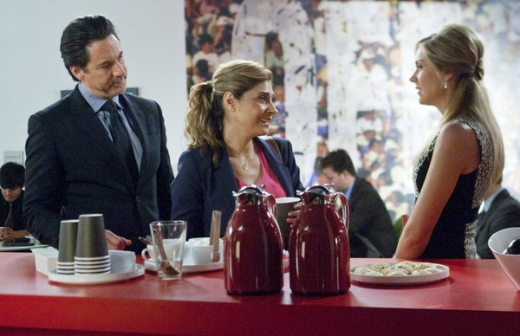 That Paloma would not only sleep with Troy to get ahead at work but also betray Dani in the process was dismaying. I was grateful she finally saw the light, yet was a little unclear why. Had she called things off because she felt guilty for her disloyalty to Dani or because she hadn't realized that Troy played this game with many members of the gorgeous V3 staff?
Either way it was a relief when she chose to hand that memory stick back to Dani. 
Speaking of which, Dani was having a really difficult time dealing with Carl's death and figuring out what to do with his mysterious information.
As usual Nico came to her aid, not just as the guy who could have someone crack the encryption but as Dani's friend who understood how this type of trauma was affecting her. 
Did Dani trust Nico completely? No. And with all of Nico's secrets, I suppose it's hard to blame her for that. But at some point I hope she realizes that when her world is falling apart, Nico is generally the guy who is there helping her pick up the pieces.
Dani's interactions with author William Glass and his little shop of horrors of a home was a fun side story to go with Carl's haunting. But it did seem unrealistic that Dani could get a man who hadn't left his house in nine months to head out to a store with her on their first meeting.
The person I may have felt the most sympathy for was TK, who wasn't too happy about the prospect of getting traded to Buffalo as he explained in this Necessary Roughness quote…
He is trading me... to Buffalo! The weather's like Siberia. The team is even colder and they're in the last place in the league. And the women? A Buffalo 10 is like a Manhattan 3. A Buffalo 10 is like a Buffalo. | permalink
TK seemed more disturbed about the sex tape than I would have thought. Not only did it have career ending consequences, he didn't seem to like having his private life displayed in public, especially when it was with someone he cared about.

I'd guessed early on that Sheera was behind leaking the video. The girl is a loose cannon and it's difficult to figure out what she'll do next. 

I believe Sheera really does care for TK but her focus here was to give herself a career boost. I doubt she ever took the time to think about the consequences for TK and she certainly never let him have a choice in the decision to leak it.

As much as it hurt, I was proud of TK when he showed her the door. It's difficult to love someone you can't trust and Sheera can't be trusted. 

The upside of this entire career disaster was that TK ended up back with Coach Purnell. I've missed him this season and it's good to see him back.

C. Orlando is a TV Fanatic Staff Writer. Follow her on Twitter.

Tags: Necessary Roughness, Reviews