Our latest DVD/Blu-Ray release update includes a special giveaway involving the Best Show on Television That Far Too Many People Have Not Yet Seen.
-------------------------------------------
Scroll down for a review of some of the new titles available this week and follow our very simple steps below to win a copy of Orphan Black on Blu-Ray...
Orphan Black Season 1: When people have asked me recently what I'm loving on TV, the first thing that pops into my mind is this BBC America series, which aired this past spring but is a show that continues to stir up huge buzz.
The good news is that the first season - starring new star Tatiana Maslany expertly portraying multiple characters - is now available on DVD/Blu-ray for you to check out or indulge in again.
The first season comes with a plethora of extras, including character profiles; a Behind-The-Scenes featurette; and set tour that will only make you love this series more.
More good news? The BBC America folks sent over some Blu-Ray copies for us to giveaway to you! THREE (3) lucky readers can win ONE (1) Blu-Ray each by following the steps below. You have until Monday August 5 to enter. Good luck!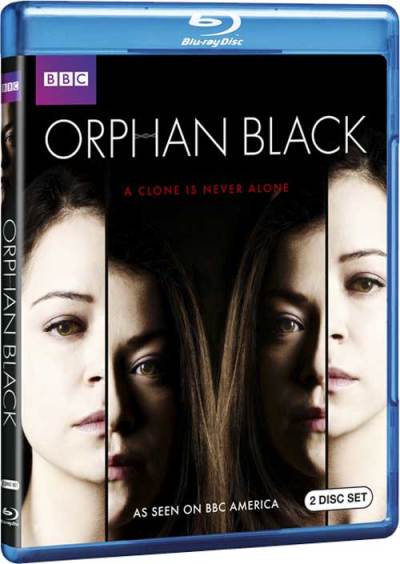 In other DVD news, classic TV show style:

Touched By An Angel Season 8: The long-running CBS drama was a show that had a big heart but also had a big audience. It watched the angels (Roma Downey, John Dye, Valerie Bertinelli) and their boss (Della Reese) help people in dire, personal situations. The eighth season is out now and includes six discs with all 22 heartwarming episodes.

The Dick Van Dyke Show Season 4: The Blu-ray release contains all 32 episodes (yes, they used to do over 30 episodes in a season!) on three discs with the hilarious Dick Van Dyke at home (with wife Mary Tyler Moore) and at work (with Carl Reiner, Morey Amsterdam and Rose Marie). A classic sitcom if there ever was one.

George Lopez Season 3: The modern family sitcom starring comedian George Lopez comes to DVD in a 4-disc box set. Adventures at work and home plague George this season as well as a trip to the 'happiest place on Earth' and Sandra Bullock (who exec produced) stopping by for an episode.

Matlock Season 9: People remember Andy Griffith's self-titled sitcom but his late career procedural, Matlock, actually ran one season longer and the final season was just released on DVD with all 15 episodes that wrapped up the series. 

UPDATE: We have three winners! They are Stephanie Feliciano, William Griesmer and "GK." Thanks to all who participated!

Jim Halterman is the West Coast Editor of TV Fanatic and the owner of JimHalterman.com. Follow him on Twitter.

Tags: DVD News, Giveaways, Orphan Black