There were a lot of risk takers in tonight's Rookie Blue - but who would be rewarded with a happy ending and who was swallowing a "Poison Pill" was something we will probably have to wait until season's end to find out.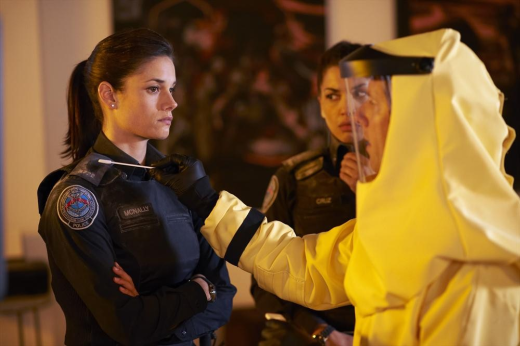 Gail was making herself absolutely crazy. Now that Chloe opened her eyes to Nick's possible feelings for Andy, every look, every touch, every laugh between the two friends was magnified. Was she making too much of it or finally seeing the signs?
I'm afraid it will end up being a bit of both. Nick obviously cares for Andy and the two got very close while working undercover. But will Gail's worries become a self-fulfilling prophecy because her craziness is destined to push Nick away?
Of course the nail in their relationship coffin was Gail's conversation with Blackstone. Finding out that Nick could have come home during those six months but chose to stay away hurt her in a way that no other words could. 
If Gail was going to end things with Nick, I only wish she had faced it head on. Picking up Blackstone in the bar made me cringe.
I found it amusing that Dov and Gail always seemed to gravitate towards one another during their relationship troubles. They've always had a unique friendship. I wish we got to see more of it.
Dov once again couldn't figure out what he wanted from Chloe. First he asked her out, then he worried she's bi-polar and bailed on her. Chloe had every right to be angry. We'll have to wait and see if Dov makes amends and tries again. 
I had to admit that the more I learned about Marlo, the more I liked her. She kept her cool about the Anthrax and although it annoyed the heck out of Andy, I found it an admirable trait in a cop. I also appreciated her conversation with Andy in this Rookie Blue quote…
Marlo: You know what I hate most in the world.
Andy: Kittens? Laughter?
Marlo: Two girls standing in a room shouting about a guy who's not even there. | permalink
I had to agree. It was kind of pathetic and with the way Sam's been acting this season I can't say he's worth all the drama.

The shock of the episode was finding out that Marlo was bi-polar. No wonder she preferred to keep her emotional distance from everyone, even Sam. She's been hiding a huge secret.

Although Marlo kept insisting she was handling it, hiding it was a huge risk to her career and the people around her.  Bi-polar disorder is a treatable mental illness but keeping that secret from the people who care about her, such as Sam will eventually do more harm than good.

I'd guess that this bombshell will explode towards the end of the season and Andy's knowledge of Marlo's condition will come to light one way or another. What type of trouble that will mean for her, Marlo and Sam is anyone's guess.

The anthrax laced heroin was a great story. When Dov mentioned that the husband was a veterinarian, I knew that was going to play into the mystery somehow. I just never expected that he'd laced the drugs himself to get rid of his wife's ex-lover. 

As soon as Chris asked Shaw if he could drive, I guessed that it was his final shift. And the way Chris handled Cedric the junkie had me missing the big guy before he'd even left.

So it looks like Chris is gone from 15 Division but Luke returns. If you had your choice, which would you choose to stick around long term?

C. Orlando is a TV Fanatic Staff Writer. Follow her on Twitter.

Tags: Rookie Blue, Reviews