"Poison Pill" revealed a serious secret and sent an original rookie off without a proper goodbye.

Below, TV Fanatic Christine Orlando hosts fans Cyth and Heather from Two Worlds Collide: A Sam Swarek/Andy McNally Fan Forum for this week's Rookie Blue Round Table to decide if Andy should keep that secret and if Gail is justified or paranoid.
-------------------------------------------
What was your favorite scene?
Cyth: Tough one... I loved this episode. I'm between two scenes: the first when Andy says to Marlo "exactly the same" about the ability to do the job since she is showing the lion's heart that we know and love and putting herself in Marlo's shoes. Her words really go a long way. The second was with Chris, Traci, Dov, and Andy since it reminded me of one of the first scenes in the first episode with the four of them and it's like a full circle for Chris.
Heather: It would be so hard to pick just one.  There wasn't really a McSwarek scene per se, but I have to say the whole episode gave me the same vibe as "Best Girlfriend Ever." Sam reminds me of how hard Andy was trying to make things work with Luke. He's trying to focus on the person he thinks he should be with (Marlo) even though it is so obvious that his heart is still with Andy.
Christine: I really enjoyed Andy and Marlo being quarantined. When Marlo asked, "You know what I hate?" and Andy responded, "Kittens? Laughter?" I couldn't help but laugh but I had to agree with Marlo in the end. The two of them fighting about Sam is pointless. They are both better than that.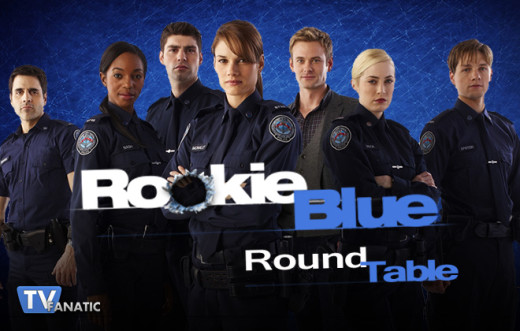 Should Chris have said goodbye?

Cyth: In this case I have to say no. His friends have not seemed so supportive of his choice to put his family first and he wants what's best for his son. He's right. He's been saying goodbye for weeks.

Heather: Probably, but I totally understand why he didn't.  His heart doesn't want it (his leaving) to be true. I keep waiting for the other shoe to drop. I want Chris to stay or return really soon.

Christine: I understand the decision he made but I think his friends will be hurt that he left without allowing them to officially say goodbye and wish him well.

Is Gail making too much of her suspicions about Nick and Andy's relationship?

Cyth: I think that everything is feeding into her paranoia about it. I doubt Nick right now and I think that some of his actions speak louder than his words. Therefore, I don't think she's making too much of her suspicions but I think she needs to watch Andy to realize it is all one-sided.

Heather: YES! To me, Nick and Andy make great friends - they act like brother and sister. Gail is looking for problems - self fulfilling prophecy. It looks like she blew things up on purpose last night. I still love Gail, though!

Christine: I do think Nick is infatuated with Andy but I've always thought of it as more of a brother / sister vibe. But poor Gail. The moment Chloe put the doubt in her mind it was all over. Like Heather said, in many ways it's become a self fulfilling prophecy as her perception of Nick's actions feeds her insecurity.  I wish she would've confronted him so they could have talked it out but that's just not Gail.

Do you think Marlo is "handling" her bipolar disorder and should Andy keep her secret?

Cyth: I think Marlo is handling it for now and right now, Andy should keep the secret. She's doing her research so she'll know what to watch for. If it comes to a point where it is too much to handle, I hope Andy is able to make the right decision. [I think Andy is putting herself in Marlo's shoes - she wouldn't want her job taken away from her.]

Heather: I think Marlo is a strong woman and I admire her, but I think killing that mental patient in the line of duty is affecting her and consuming energy drinks would exasperate her condition.  That said - Andy should keep it to herself. It's not her secret to tell unless Andy thinks someone else is in danger if Marlo's condition worsens.

Christine: It's a fine line and I worry that without the support of those closest to her, "handling" her illness will only be made more difficult. For now, Andy's right to keep the secret but I have little doubt that by season's end it will blow up in all of their faces, including unsuspecting Sam's.

Should Dov pursue a relationship with Chloe?

Cyth: Considering I don't like Chloe (I find her annoying), I'm going to say no but I think that he is going to pursue it because he was in the wrong and he does like her.

Heather: He'll have an uphill road to climb after the mess he made last night. I like him with Chloe so I'm hopeful they work it out.

Christine: Oh, Dov made a mess of things. He and  Chloe are cute together but I'm not sure they have long term potential. Still, I wouldn't mind them at least giving it a try if Dov can get Chloe to forgive him.

C. Orlando is a TV Fanatic Staff Writer. Follow her on Twitter.

Tags: Rookie Blue, Round Tables