The Glades Review: Not Just Skating By
by Jim Garner at .
We returned to watching Jim do what he does best on The Glades this week: find the truth about who killed his victim, as "Glade-iators" brought us back to Jim being the only goofy thing on the series.
After last week's groan-inducing offering of a zombie story that complicated the case to the point of not understanding why the victim was killed, imagine my surprise when this week's victim was a banker by-day and roller derby girl by-night.... and nothing else.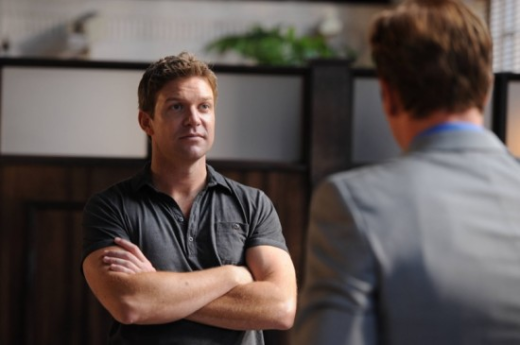 Having the story less complex meant there was room for Callie to have a bit of a focus. She made a house call to basketball legend Darius Locke, where her professional ethics kicked in as he was deceptive in the number or Cortisone shots he had received.  

While Darius was very smooth about how he had gotten all the warnings and how great Callie must be to be trusted to make the house call, Callie's no fool; lying to her just put her on the war path. Go get em, Callie! 

Meanwhile, back at the roller derby, Jim got to run through the typical list of suspects: an ex-boyfriend who was cheating the bank they worked at and teammate who tried to sue her for damage to her knees. Then, finally, a teammate who she helped start her own tattoo business. 

All three of them had decent reasons for killing Diana. The one I didn't see coming was the revenge for her younger sister's death. Hayley Marie Norman - who played Josie "The Cuban Missile" Cruz - did such a great job of pulling me in I had taken her off my list early on. 

Think about it: after she handcuffed Daniel instead of her handcuffing him and started walking him out, how could you not think she was innocent? All my bets were on Randy Dillard with the fake loans and new girlfriend; I was prepping my pitchfork for him before Jim could eat his first snack. 

The icing on the cake for me in this episode was Jim not using the tickets Locke sent over and coming home to Callie and understanding why she didn't want to use them. It was so cute to see him text her about wanting popcorn, it was a great final shot for what was a fun episode. 

All in all I'm giving it 4.7 bags of popcorn for a great start to my summer "staycation" for the 4th of July week! 

What did you think? Was this episode more like those that helped us fall in love with the show? Did you miss the extra-silliness outside Jim's goofiness? 

Jim G. is a TV Fanatic Staff Writer. Follow him on Twitter.

Tags: Reviews, The Glades
From Around the Web