What hit me "Out of the Blue" on Franklin & Bash this week was that Damien really did kill Judge Dinsdale.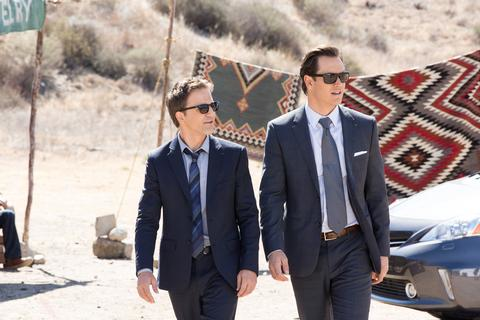 There was no mysterious killer looming in a sand trap or other far-fetched explanation for the two bloody wounds on the man's head. It was all due to Damien.
No, he didn't do it on purpose. Chalk it up to poor timing and an even worse golf swing that led to Damien being charged with murder. The saddest part of the entire affair was the Infeld thought Damien was guilty as he mistook his pausing over the body as intent to kill instead of horrified shock.
Damien is a lot of things, but I don't think a cold blooded killer is one of them. Still, this unfortunate set of circumstances ended up killing Damien's career aspirations as he pointed out in this Franklin & Bash quote...
I literally killed my only chance at becoming a judge. | permalink
Despite all of their rivalry, it was great to see the boys ride to Damien's rescue. I can only imagine how they'll have him pay them back in the future.
But for the most part Peter and Jared had their hands full with Meteor Man. As much as Jared tried to spin it otherwise, Denny was right. His life sucked before that space rock came crashing through his window….
Jared: Any girlfriends in the picture?
Denny: We broke up. We met on line. She turned out to be a guy in Honduras. | permalink
The meteor not only led to him being noticed by hot women everywhere, he even found out how important his Native American heritage could be to him. So much so that he donated the rock to the tribe, thus giving away the law firm's fee. As upset as Rachel was, she had to see that this turn of events was as much her doing as anyone's as she's the one who decided to make Denny a member of the tribe.

And if I learned nothing else in this episode it was how dangerous taking a sliver off of a baseball could be. 

My only complaint of the hour was Peter checking out the hot blonde in the office. Wasn't he tripping over himself to get back together with Charlie last week? And where was she? Had she moved already?  

Last Wednesday, Peter and Charlie were locking lips at the end of the episode and this week it was as though she didn't exist. What's the story there?

Unfortunately the love lives on Franklin & Bash are a fluid thing. Here's to hoping we get some answers in the very near future.

C. Orlando is a TV Fanatic Staff Writer. Follow her on Twitter.

Tags: Franklin & Bash, Reviews