Don't look now, but Grey's Anatomy returns with new episodes next month.
And, as fans have come to expect, the premiere will be a doozy: two hours filled with laughter, tears and the reveal we've all been waiting for... Is Chief Webber alive and well?
In an interview with TV Guide, creator Shonda Rhimes gave viewers an idea of what they can expect from Season 10, which may feature the exit of cast anchors Ellen Pompeo and Patrick Dempsey. Scroll down for excerpts from the Q&A...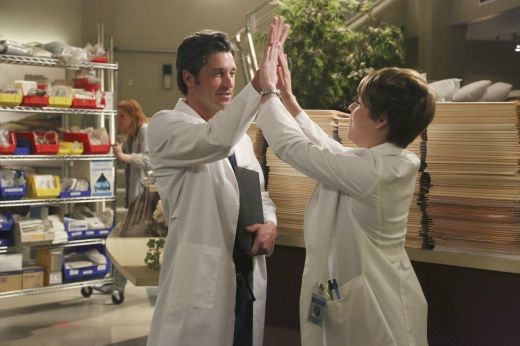 Is there a Season 10 theme? "They've gone from embracing being attendings to having ownership of the hospital… we have the struggle of, they are now the board of directors at the hospital. It's ownership of the hospital on top of everything else."

How will MerDer's life be complicated by their kids? "Meredith is juggling an incredible amount of things… There's a lot to balance. It's something they're going to try to figure out. Meredith and Derek are trying to figure out what this is going to mean for both of them. It's never going to be a simple thing."

How might she wrote out various series regulars? "I've asked very clearly that I'd like to know things sooner rather than later so that I can plan. Every last one of the originals that we have left is very special to me, and if we're going to have anybody exit, I really wanted the time to plan and write and execute really fitting and beautiful ends for those characters."

Can Arizona and Callie bounce back from infidelity? "That's going to be a journey for them. Whether or not that journey brings them back together or makes them realize that they should be a part, no matter what they're joined by a child. They're joined by a shared history, and they're joined by a hospital that they're both board members and part-owners of. So, it's not going to be that easy."

Rhimes also made it clear that she has no plans for Grey's Anatomy Season 10 to be the end of the series.

Tune in for the two-hour season premiere on Thursday, September 26 at 9/8c.

Tags: Grey's Anatomy, Interviews, Spoilers