If there's one thing you can't call the participants of this week's pre-wedding parties, it would "The Merrymakers."
And if ever there were two more uncomfortable celebrations of an impending marriage, I'd love to hear the stories! 
Between those moments and the moms finally admitting what a huge mistake Nikki and Toby would be making if they walk down the aisle next Monday, it will definitely be a surprise if the wedding comes to pass.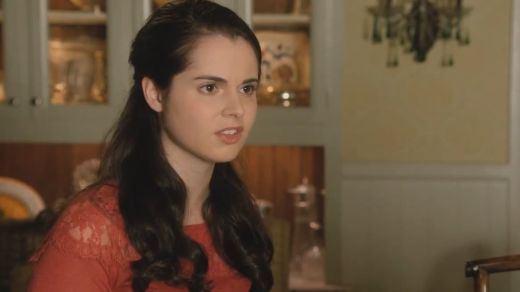 There were some laugh out loud scenes, although more in an ironic fashion than giggly way. Poor Toby. As he was riding to his bachelor party, Simone called to let him know she had Chlamydia. Because Emmett was right beside him, he just shared the news; and later, after deciding to get the test done before hitting the party, drying suggested to Emmett:
It says here to list your sexual partners. You want to just copy off me? | permalink
At least the show can poke fun at itself and the incestuous relationships it has fostered by keeping the cast sequestered most of the time. Even when they finally get jobs and make it off of the Kennish compound, their interaction with the outside world is rather limited. With all the people who work at the car wash, we've only met Travis, most likely because he's deaf. All the boys want either Daphne, Bay or Simone. Thank God Toby and Nikki were waiting to have sex. For once, waiting for the marriage bed worked in their favor, except the wedding is coming too soon.

I enjoyed seeing Travis finally grow up. He has spent a good portion of his time on the series concerned about getting laid, but when he finally met a girl he liked he was more interested in finding the perfect moment to kiss her, not the first one. Since Marybeth is bigger in stature than the normal girl, she misunderstood his intention, but blending the kiss and the discovery of her brother's lost dog tags made for a very romantic moment. They are two characters who we can urge on and hope make it for the long haul.

Genise (if that's how it's spelled) was a bit of a shock at the beginning, but I was so happy she and Katherine finally came to a common understanding about their children's future. Toby and Nikki have no business getting married and the moms have a week to try to get that message across to them. I would say good luck, but we don't yet know Nikki's reaction to hearing Toby's news about Simone. 

It was fairly obvious Ty wouldn't get a change in his tour of duty, but Bay was happy to have her father give it a try. Sometimes that's all that's needed. When a child desperately wants the help of your parent, you just want to know they're willing to help, even if results can't be achieved. Something tells me Ty won't make it back to Kansas and this moment between father and daughter will go a very long way to heal what could have been a permanent wound.

It was very surprising, especially given their differences in opinion on the matter, that Daphne decided to confide in Nikki what she had done to Senator Coto. Additionally, Nikki is a Christian girl and the idea of blackmail, if she hadn't been tipsy, could have tipped the scales against her having a solid relationship with her future sister-in-law. Instead, she imagined Coto was her father, left him a nasty message and they both got in trouble. They very nearly made it out, but as Coto watched the video of Senator Kennish's daughter and soon to be daughter-in-law in his office, you knew there was trouble on the way.

It seems like it's all coming down the finale next week. Thank you, world, for not showing us Travis using a blow up doll. I'm sad that Regina decided to part ways with Angelo. Maybe he'll end up leaving the country if their marriage disintegrates or he'll date Regina's boss. I suppose the future is open. Until the wedding and Ty's deployment, we'll see you here next Monday for the summer finale!

Carissa Pavlica is the managing editor and staff writer for TV Fanatic. Follow her on Twitter and on Google+.

Tags: Switched at Birth, Reviews