We've reached the final mission for Michael Westen.
Burn Notice comes to an end tonight with a finale that promises tears, tense moments and an explosion or two... or three... or four.
While there are no finale spoilers to be had here, I jumped on the phone this week with multiple Emmy and Golden Globe winner Sharon Gless, who has been the heart of the series from the opening episode as Michael's meddlesome mother.
In the first part of our chat, Gless reminisced on saying goodbye to her Burn Notice family, as well as what she'd like to do next in her career. The second part of this interview will be posted tomorrow after the series finale has aired...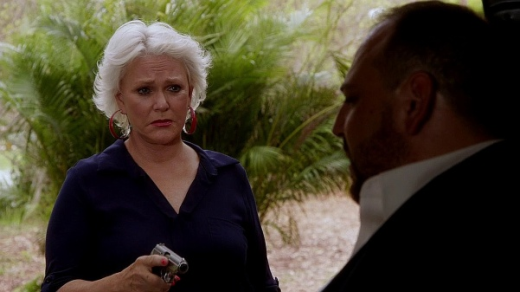 TV Fanatic: Since you've been through this wrapping up a TV series before, does it ever get easier or is it always hard?
Sharon Gless: I don't remember it ever getting easier. I remember the gratitude for having so many years together. It's sad to wrap up seven years but not as sad as wrapping up one [season] and that's all you'll have.

This is my 11th series. It's definitely the longest running one I ever had. Cagney and Lacey was six. Queer as Folk was only five. But those are long. They're lifetimes together. That's my favorite thing to do, Jim, is to be in a long running hit series. That's what I love doing.

It is because of the family aspect. I don't usually throw that word around but it is, for good or for bad. Some people are in a bad mood one day. Some days everybody's happy and other days…it's just like a real family. There are ups and downs and still always striving for the excellence of the project.

TVF: Did you and your castmates have a chance to have an end-of-series celebration?
SG: No, we weren't all together on the last day. It was me all day. They just saved me and did all of my stuff that day. Sometimes they do that, like on a Friday. They'll just work me all day. From Cagney and Lacey I'm used to working without stopping.

Jeffrey came in to do a scene with me. I came in another day to do off camera for him and he came in that very last day to do off-camera for me. Normally we don't have to do that but it was a very poignant scene and we both knew it would better if we could really do it with each other, even though we can't see each other.

I'm right on the set with him and he can hear my voice rather than have the script girl do it. He gave me the same courtesy the last day in coming in and doing mine. We really do care about each other. I've done that my entire career. I've missed planes to do off camera for an actor.

Anyway, Jeffrey and I were there for each other particularly because it was our last show. I did a scene with Coby [Bell]. Coby came in to do a scene with me. Then he left and I think the little boy [Charlie, played by was there for one. My grandson.

TVF: Do you have anything else in the pipeline?
SG: I don't know what I'm doing. The only thing I really want to do, the only thing I consider orgasmic is a long running hit television series. So I'm looking forward to number 12.

TVF: Now would you want to do drama, comedy or do you not care as long as it's a good role?
SG: I prefer drama but being funny within it, like Madeline. Do you know what I mean? I've had the great honor of playing the two best mothers ever on television, from Queer As Folk, crazy Debbie. She was a wonderful character. And now this one with wonderful Madeline. Maybe it's time for me to play a grown-up. [laughs]

The Burn Notice Season 7 finale airs tonight at 9 p.m. on USA. Check back tomorrow when Gless talks about the big events in the episode.

Jim Halterman is the West Coast Editor of TV Fanatic and the owner of JimHalterman.com. Follow him on Twitter.

Tags: Burn Notice, Interviews, Sharon Gless, Exclusives