Lisa Edelstein is coming to Castle.
The veteran actress (House, The Good Wife, Scandal) guest stars on Monday's Castle Season 6 premiere as Rachel McCord, a woman who will have major influence over Kate Beckett's future.
In an exclusive interview with TV Fanatic, Edelstein shares her (SPOILER FREE) insights on the new season, chats about some of her favorite past guest appearances and talks up an upcoming project that's got her seriously excited...
-------------------------------------------
From the behind the scenes pictures we've seen, it certainly looks like you were enjoying your time on Castle. Can you share any memorable moments?
You know what? I never remember moments. I remember the whole experience and it was really lovely. Stana Katic and I had a lot laughs. She is a very sweet girl and we clicked the minute we met. It was just an easy transition into an already moving machine. So I was really grateful for that. I had such a nice time.
It's a three-episode arc. Without giving too much away, how much of an influence is your character on Beckett and Castle.
She really is a mentor to Beckett, who I think influences her in the sense that Beckett knows McCord wants her to be bigger, faster, stronger in her life. And so she tries to please McCord in those ways. The issues that come up are surprising ones but not the ones you'd expect. But Beckett and McCord have wonderful friendship that's building.
Does she she have any interactions with Castle?
Yeah, she does. It's hard to talk about too much without giving too much away before the airing of the premiere.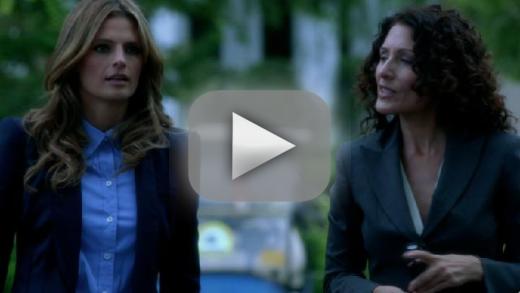 Any chance your character will return in the future?
It's been left open. It really is subject to my availability and depending what happens with this new project I've signed on to.

What can you tell us about your new project?
It's a pilot for Bravo. They're starting a scripted program schedule and this is the second pilot they've done. This one is written by Marti Noxon. It's Girlfriends' Guide to Divorce and it is about…my character's family is just falling apart. You meet her as she and her husband are separating and it follows the lives of women who are newly single in their 40s. It's funny and it's smart and I'm super excited.

You've done so many great guest roles over years. Some of my favorites have been The West Wing, The Good Wife, last season on Scandal and now Castle... and there have been many others. Have you had a favorite?
They all hold a special place in my heart. Most recently, I'd say Scandal was a real standout experience for me. It was beautifully written and it was a wonderful opportunity. I loved working with Kerry [Washington] and everyone else. The truth is I had such a meaty role for a guest star. It was great. Castle was really fun because I started at the beginning of the season so I felt like I was part of the machine. I just enjoyed it on that level. It's a very, very sweet group of people. The Good Wife was really important to me because it's an excellent show and a really fun part and it came at exactly at the time when I was sort of recovering from leaving House M.D., so that meant an enormous amount to me. And then over the years, The West Wing was life changing. Seinfeld was the first life changing guest star part I ever had and there were parts along that just meant a lot to me for my career that changed things. That's how I value them. They're real moments that things shifted.

Castle fans are thrilled to be going into season 6. As someone who had a somewhat tumultuous time on a long running show, do you have any advice for the Castle cast and crew moving forward?
You know it's not up to the Castle cast. I think they're doing an excellent job of enjoy their lives. It's a really wonderful experience to be on a long running show. And if you're present enough and you can enjoy it, that is the most important because you just don't get that opportunity a lot. It's a very, very special experience. I don't need to advise them to enjoy it because they already are.

If you had your pick to star on one current TV show, which one would you choose?
To star on a show. If I could replace the lead?

Could be a new character or a current character. What's your fantasy job?
I don't how to answer that question. I can't think of it. The pilot that I'm starring in for Bravo coming up, that's my dream. It's a very exciting project and hopefully it can be a series you guys can see, but for now it's just a pilot.

Wow! Now I've really got my fingers crossed it gets picked up.
Thank you.

Without giving too much away, is there anything you can tease us with about "Valkyrie" the Castle season premiere?
It's really hard. They don't want me to say too much. There's very little I can say without giving away the actual structure of the episode, unfortunately. Beckett and McCord begin with and are building a great relationship.

C. Orlando is a TV Fanatic Staff Writer. Follow her on Twitter.

Tags: Castle, Exclusives, Lisa Edelstein, Interviews