I'll admit it. Last year about this time I was watching The Newsroom just waiting for the season to end. As much as I'm an Aaron Sorkin fan and I loved the cast, the stories just weren't clicking for me.
Fast forward, though, and as I'm watching "Election Night, Part I" I can't get enough of The Newsroom season 2. My only true disappointment is that there's just one episode left.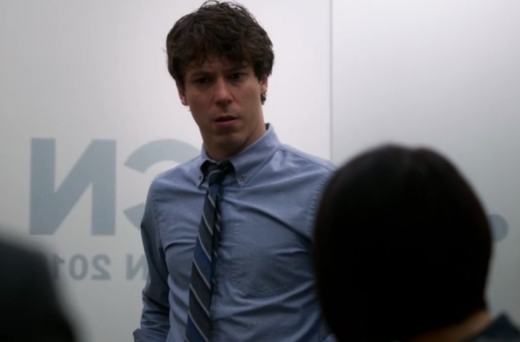 The aftermath of Operation Genoa is the gift that keeps on giving. As Charlie Skinner lamented last week that ACN had lost the public trust, Leona's order to get it back won't be so easy. Charlie even feels for Will in this The Newsroom quote as he's about to anchor six hours of election night coverage...
Someone has to endure the soul swallowing humiliation of having their name and face broadcast next to the ACN logo for the next six hours. | permalink
Yeah, to say spirits are low is an extreme understatement. And what does it mean when the unhappiest guy in the building appoints himself morale manager? Nothing good can come of this.
As bad as things are for the News Night crew, MacKenzie takes it the hardest. Obviously not sleeping, she looks like hell - or as Will puts it…
You look like you were grown in an environment where it's dark and damp. | permalink
 It's pretty bad and in some ways it's only going to get worse.
Mac is begging to be fired. She wants to be put out of her misery and due to how Will had her contract written up, he's the only one who can do it. It's a little unclear whether that fact leads her to push all of Will's buttons or she's just so consumed with guilt that she's wrapped this career debacle around the personal one she created when she cheated on him.
Mac accuses Will of being a bomb waiting to detonate to which he responds…
Will: I'm sorry I didn't explode for you.
Mac: It's a long night. | permalink
At that point I knew he'd fire her before the hour was up and I wasn't wrong. The dialogue combined with the performances of Emily Mortimer and Jeff Daniels made for a riveting scene. Mac and Will share a painful history and it infuses everything they do and say six years later.  

As much as I root for their happy ending, I also love watching them step through the minefield of their entwined personal and professional lives. 

But theirs isn't the only story of the night. Charlie is having a full on meltdown as he begs for anyone close to Leona to get her to change her mind. It's hard to say which is better: watching him banter with Rebecca, beg Reese or go off the deep end as he hears about the General Petraeus story. 

And Jerry is suing Don Keefer for calling him a sociopath, for which he wants an additional $20 million. As much as I think Don's rant against the little weasel (and can one be sued for calling him a weasel?), I feel like at Don's professional level he should know better than to give such a scathingly bad recommendation. Of course anger has been known to shove common sense out the window on many an occasion. 

My only issue is with Sloan, who comes off like a bit of an idiot during the election night coverage. As amusing as it is to watch, was the book signature so distracting that she couldn't do her job without making a fool of herself on camera?

Of course Will's, "I apologize. I was trapped by my own sentence structure" line had me smiling so hard that I came close to forgetting my annoyance with anything.

So who thinks Mac will leave ACN? Will Jim's screw up come back to bite him? And am I the only one both looking forward to the season finale and not wanting The Newsroom season 2 to end?

C. Orlando is a TV Fanatic Staff Writer. Follow her on Twitter.

Tags: Reviews, The Newsroom