Drop Dead Diva: Back With Vampires, Possible Babies and Big Guest Stars
by Jim Halterman at .
Following a long hiatus, Drop Dead Diva Season 5 returns tonight for its final run of episodes. What can viewers expect from this fun Lifetime hit?
The firm is still in danger since Parker has put his portion up for sale - and with Owen at the helm while Kim is on maternity leave, can the company stay together in one piece? Also, while Jane tries to keep things together – especially when her actions in court could cost the firm everything – viewers will see that forces come from all sides to split our gang apart.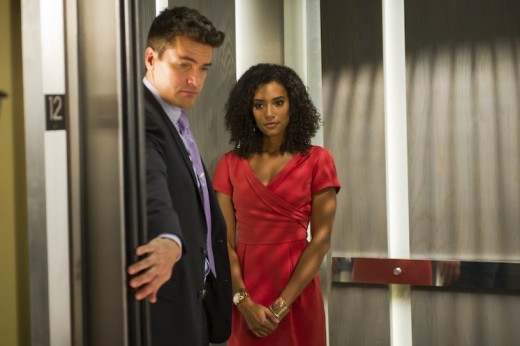 In tonight's case, Grayson represents a young man (played by Douglas Smith from Big Love) who claims that he's a vampire and is forcibly removed from a commercial flight.

"The episode is my way of tackling the issue of bullying without being too on the nose," creator Josh Berman told me. "I believe that being a vampire in the episode is a metaphor for being any minority, including being gay. So I'm really proud of that story."

Of course, besides the case of the week, there are also more than a few matters of the heart, including Jane still freaking over having seen Grayson kissing assistant Nicole. Stacy is bursting with hope  that she's pregnant with sperm donated by Jane's ex, Owen, but things get a little less cheery when she receives a legal document about their potential baby that has her anything but excited. And make sure to stick around for the last few minutes for a few classic Drop Dead Diva shockers that will lead us into the coming episodes!

And, as always, there are the guest stars. Watch for familiar faces in these next episodes that include Jaleel White, Nancy Grace, Sharon Lawrence, Illeanna Douglas, Peri Gilpin, E's Jason Kennedy, Rebecca Mader, Doug Savant, Richard Kind and Tony nominee Faith Prince.

Who's excited for the rest of Season 5? Berman, for one: "I honestly think these are the best five episodes in the history of the show. Lots of emotion and we allow the characters to have shades of gray instead of black and white."

And, as Berman teased, watch for things to be anything but boring: "As you will see, there are some huge plot turns and deeper character development. Stacy has a real arc over these last five [episodes] and the cliff hanger will be incredibly satisfying but also leave the viewers screaming for more episodes!"

Drop Dead Diva airs Sundays at 9 p.m. followed by the new series Witches of East End.

Jim Halterman is the West Coast Editor of TV Fanatic and the owner of JimHalterman.com. Follow him on Twitter.

Tags: Spoilers, Drop Dead Diva
Related Stories