Drop Dead Diva Review: The Vampire Diaries
by Leigh Raines at .
Drop Dead Diva returned for its fall premiere with an episode that was a bit all over the place. When we left off in "50 Shades of Grayson," Jane was determined to tell Grayson her feelings, only to walk in on him kissing Nicole.
In "Trust Me," it seems that Jane was still very much haunted by the visual of Grayson and Nicole. Unfortunately, she's having sex nightmares about them!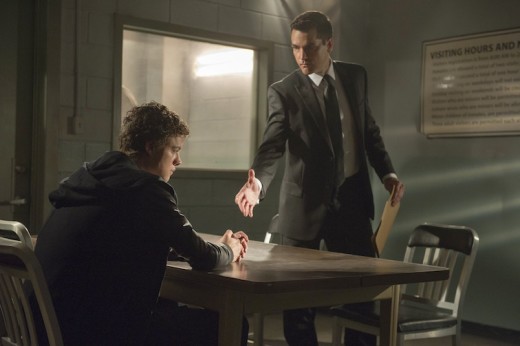 We should probably just quickly discuss the end of the episode when Jane broke down crying about Grayson. She told Paul that her whole life isn't about work. As happy she was in her career progression, she was still upset by Grayson's forthright admission that he and Nicole were together. Now it was confirmed. When he added that he could only take Jane's rejection so many times, it really drove the pain home.

Paul didn't seem to understand why Jane couldn't go after Grayson. He obviously wasn't given the guardian angel handbook that said she wasn't allowed to be with him because he was Deb's soulmate and bad things would happen if she disrupted the universe's plans...or something like that. Well Paul, the wild child that he is, isn't keen on sticking to the rules. Or maybe the writers just decided that five years later it was a stupid idea to not let the main couple be together.

Look Jane, I don't care about the rules. Life is short. If you don't like the rules, then let's make new ones. | permalink

It also doesn't appear that Jane is going to end up with Owen. I'm glad those two ended up being able to be civil and even friendly for the majority of the episode and I'm glad Owen admitted that he liked working with her. Her meltdown in court was not all acting. C'mon, girlfriend, you're just lying to yourself if you think that! Then there was the other moment at the end of the episode...the moment that had me yelling "No! No! No!" and shaking my finger at my TV: Stacy and Owen kissed.

Girl code is one rule I do firmly believe in. I'm still not comfortable with the whole idea of Owen sperminaitng Stacy, but I guess it's too late for that now that she's officially knocked up. Could these two have a chance? Would Jane ever be able to handle it? 

One thing I do know is that as partner Jane is bound to have a lot more on her plate. Either way, it's still really exciting that our girl was made partner! It was about time Parker and his annoying liaison got out of there. 

The last important order of business to discuss was the ridiculous vampire case in this episode. I know vampires have been all the rage for the past few years, but now it's just getting old. I felt bad for Kieran and the bullying he went through in school. I totally understand his need to fit in somewhere and find his niche. The case just seemed really silly and trivial. At this point, we know the Drop Dead Diva writers can do better. 

So what did you think of the return of Drop Dead Diva? Do you agree that it felt a little disjointed? What do you think will happen in upcoming episodes? 

Leigh Raines is a TV Fanatic Staff Writer. Follow her on Twitter.

Tags: Reviews, Drop Dead Diva
From Around the Web