Low Winter Sun Season Finale Review: House of Lies
by Sean McKenna at .
The real life failings of Detroit have been fodder for the news recently, from its initial bankruptcy filing in July (about a month before the Low Winter Sun pilot aired) and, more recently, the former mayor preparing for his sentencing for 24 corruption convictions that cost taxpayers at least $20 million.
Quite the relevant and perfect setting then for Low Winter Sun.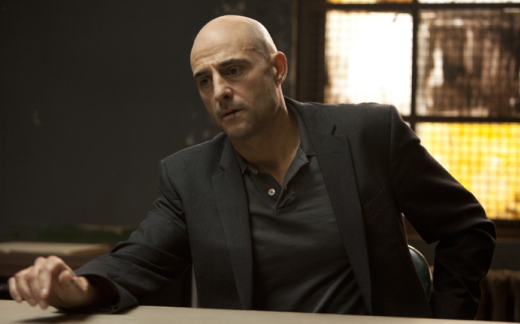 The freshman series trudged along through dark and humorless episodes exposing a city dilapidated and failing, corruption from just about everyone including the police and the strong possibility of betrayal and murder at every turn. And utilizing on-location shooting added to the authenticity of a place most people probably wouldn't want to visit on vacation.

In some ways I wish that the finale maintained splitting the two episodes rather than combining them into one two-hour conclusion, mostly because the first half is such a different speed and focus. But ultimately "Ann Arbor; Surrender" capped off an okay season with a solid ending, while pulling up some season two possibilities.

The first half was far more engaging, as Frank Agnew set out on a mission for truth from all the lies. It was like Mr. Clean was coming clean, and yet the collapse of his psyche and potentially his life was all at stake.

Things picked up at a frenetic pace with Frank trying to right his wrongs, close his bank accounts and escape to Germany. Using box cutters can be hazardous. That and picking fights with a group of construction workers.

We really got to see the cracks in the stone cold cop through a range of emotions. I've always found Frank alright, but here he was engaging with the sincerity of a man preparing to accept his fate despite the consequences.

What's more, we finally were introduced to his ex-wife, a woman he shared a positive past many years ago but no longer cared for Frank and his stench of "death." Frank was just looking for that one person to care about him in his time of need.

And while I never expected him to kill himself, it was still an intensely dramatic moment in which his ex-wife was able to calm him and bring him back from the brink. It's kind of heartbreaking to know the path that Frank had chosen, while trying to pull himself out just kept pulling him deeper in.

That first half was all about Frank and was probably one of the best parts of the season.

The second half spent its time closing the chapter on the triple homicide case that had put Frank and Joe in jeopardy, all thanks to Frank's addict former cop buddy, Sean, who chose to take the fall. And it fit perfectly, down to him knowing all the details. Maybe a stretch in believability, but it lined up especially with his cop past and saving Damon and ultimately Maya.

It was a decent turn of events. And I was pleased that Frank tried to get Sean out of the situation despite Sean choosing to ignore him. Maybe he'll at least get some dental fixes out of it all.

But with the return of Simon Boyd and putting the pieces together, there was still the possibility that they would all go down for the crime. And yet, without Katia or any real evidence, it was all circumstantial despite his shouting to everyone that they knew he was right all along.

It was certainly a far more quieter conclusion and lucky escape for Frank and Joe, but it definitely pits them even further apart for the future. I just wonder if Frank can ride the good side road for that future or if the nature of Detroit, the police force and everyone around will suck him back in.

And the last scene with Frank unable to say Katia's name was kind of a sad ending for the man. He may have survived the legal ramifications of his crime, but it was no victory by a long shot.

As for the flip side of the story with Damon and the crime gang wars, he managed to kill Skelos before getting capped himself. I was a little surprised he died especially so close to the end, but his death and ties with Frank could put potential heat on Revered Lowdown for Season 2.

Will it put Maya on a revenge mission? Will she lead the crew?

Damon was another decent character on the show, but unfortunately his journey of attempting to rise in the ranks was a mostly dour one. Someone else will soon take his place. It's hard out there in the criminal business.

The finale was rather bleak and full of despair despite Frank getting lucky. It didn't blow my mind, but it didn't let me down either. It certainly stuck to the mood and style throughout the season. And while there weren't really characters to like or root for, by the end, we did get to know them more. And with Frank revealing that human side in his breakdown, I was more on board with hoping he would figure a way out of his mess and take down Joe.

I am curious as to the direction Low Winter Sun might head, but it'd be nice to see more moments of levity and hope, and maybe some characters that aren't so moody. It's great to see a drama about corruption, but it can't be dark and depressing all the time. But if the series doesn't manage to come back for a second round, at least it ended on its own terms with actual closure, true to the story it was telling.

Sean McKenna is a TV Fanatic Staff Writer. Follow him on Twitter.

Tags: Reviews, Low Winter Sun
From Around the Web