Masters of Sex Review: A Profound Loss
by Leigh Raines at . Updated at .
Every drama has those episodes that are heart-wrenching and painful to watch. That was the case in Masters of Sex Season 1 Episode 5.
It was one of the first times on Masters of Sex that we saw Bill really show immense emotion - and he had good reason to.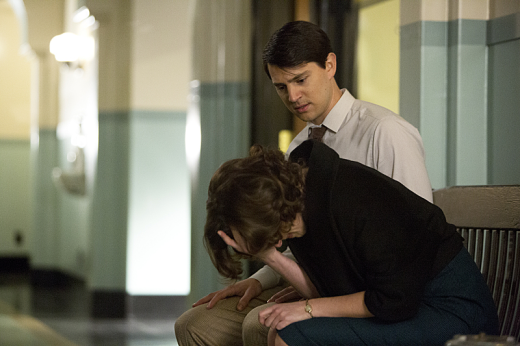 Libby and Bill had been struggling to conceive for awhile and by some miracle - or a shady switcheroo by Dr. Haas - they finally got pregnant. Libby was safely into her second trimester... or so we had thought.

Meanwhile, Bill was still sleepwalking, his body's way of signifying stress. While it hasn't be outright stated why Bill used to sleepwalk as a child, we can gather that since it's a stress response and his father used to abuse him, they are likely related. Bill later admits that he had doubts about wanting to be a father and the next thing he knew, Libby stood up and was having a bleed at the dinner.

It's always heartbreaking when a couple loses a baby. It was a painful episode to watch when it happened on The Secret Life of the American Teenager. Of course, Masters of Sex takes place in a completely different time period when we knew far less about medicine and technology was not nearly what it is today. Despite Bill and the team's best effort, the baby was stillborn.

Watching Bill hold his daughter's body tenderly for a moment before shoving it away to a nurse was really devastating. For Libby, it was devastating not only to go through that traumatic event but to have Bill tell her afterward that he couldn't watch her go through it again and they'd have to stop trying. Her dream of motherhood was squashed.

Onto someone who deals with the daily chaos of motherhood, Virginia was just barely holding it together. Her son was angry with her for working day and night, because children rarely understand why their parent is always at work, just that they are always at work. Henry ran away and hid, but Ethan came to the rescue despite his issues with Virginia.

Right now, Ethan's in enough trouble after de-flowering Provost Scully's daughter! It was good to watch him help solve a problem, rather than cause one.

There were a few chuckles in this episode, mainly the couple who thought that lying with each other, literally meant sleeping next to each other. 

William: Well then their faces when I explained the nuts and bolts, the wife looked like she'd seen the second coming.

Virginia: Wait till she sees her husband coming. | permalink

All in all, a captivating episode. I'm intrigued that Bill finally let himself show emotion but only in front of Virginia. How will Bill and Libby come back from this? What with Ethan do about Vivian? What will happen next with the study?

Leigh Raines is a TV Fanatic Staff Writer. Follow her on Twitter.

Tags: Masters of Sex, Reviews
From Around the Web