Masters of Sex Review: Who Wants To Go Back To Kansas?
by Leigh Raines at .
Did Bill just take his crush on Virginia to a creepy level? Based on this week's Masters of Sex episode, there's no other way to really look at it.
In "Thank You For Coming," Virginia's ex-husband shows up and creates some complications.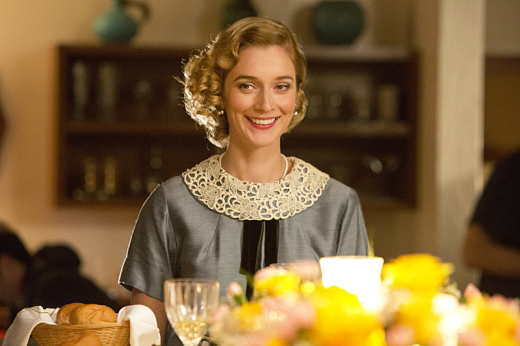 Virginia comes home after another 16-hour day to find George there. He's fed the kids and made himself right at home. Despite her initial annoyance, it's not long before they start to reminisce and fall into old habits and eventually bed.

We see an uninhibited Virginia who we haven't seen since the likes of clingy Ethan. Then again, George is the man with whom Virginia has had more experience than anyone.

There's obviously still an attraction there, but it's also obvious that Virginia is looking for more out of a partner. She's not on bad terms with George, but he can't financially support himself and his music dreams, let alone her and the children. Once again he hits her up for cash. When he learns about the study she's conducting with Masters, he enters under a fake name. Virginia comes clean to Bill, but Bill brushes it off as if he's not bothered.

Little do we know it's because he wants to pump George for more information on what it's like to have sex with Virginia.

It's one thing to be curious, but Bill made it look like he needed more information in just a one-on-one setting. Then he listened to George's interview with headphones on while watching Virginia primp and get ready to head home. From his original proposition and his daydreams, it's clear that Bill wants to experience this magical experience of being with Virginia.

Ethan still can't shake her. He got drunk, cursed Virginia off, took his frustrations out on the Provost's daughter, then delivered a baby while he was drunk.

Once you've seen Oz, who wants to go back to Kansas? | permalink

Did Libby not realize Ethan and Virginia had slept together before? One thing Libby did pick up on was Bill's troubling past. The sleepwalking was just one indication that something about Bill's family triggered stress. Then there was the way he lashed out at his mother about finally finding the strength to do the right thing.

When Bill walked into the operating room with the flashbacks of being beaten by his father and his mother just turning up the radio, it was heartbreaking. I'm glad he gave that woman what she wanted and performed tubal surgery. Society was completely different 60-something years ago; there isn't exactly family services to call up and do an evaluation.

I thought this was a really interesting episode that showed relationships deepening within the characters. As the weeks go by, we are learning more about them and what drives them.

Bill Masters went from being a cold surgeon to someone quite intriguing. What is it that makes Virginia so different? Where does Ethan's anger stem from? I look forward to learning these answers and more.

Leigh Raines is a TV Fanatic Staff Writer. Follow her on Twitter.

Tags: Reviews, Masters of Sex
From Around the Web