On tonight's new episode Person of Interest episode, Finch, Reese and especially Shaw will come face-to-face with someone who challenges them in a brand new way.
And that someone is a 10-year old girl.
In "Razgover" - written by David Slack - Samantha Shaw is tasked with watching over Genrika (played by Danielle Kotch), who The Machine has identified as the latest Person of Interest. Turns out, the kid has some mad surveillance skills, which Shaw realizes could be the reason her number has come up.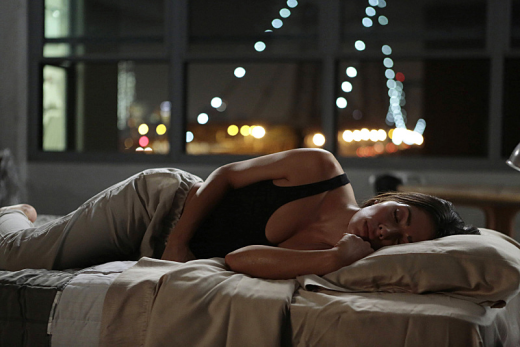 I was on the New York set this summer during the shooting of this episode and got a preview from Sarah Shahi and Michael Emerson in between shooting scenes.

"This is pretty much my turn at being Jean Reno in The Professional," Shahi said, referencing the 1994 movie that launched the career of then-child Natalie Portman. "Shaw and this 10-year-old girl are paired up together and Shaw is not very kid-friendly, so she has to take care of her and protect her and take her under her wing."

Added Emerson: "This is a wonderful episode. We always have good episodes, but every once in a while, we get a script and I go, 'Oh my God, this would be such a cool feature film.'"

After shooting a scene involving Finch confronting, of all things, a pay phone - as well as interacting with Reese (with Bear the dog) - Emerson laughed at the situation in the episode.: "In this case, we have an extraordinary child that's at the center of this episode, a child who thinks she's a spy, which leads to some complications. It's a great episode."

Emerson harkened back to a previous episode centered on a young one and how the show handled it: "It always ends up they pair the child with the coldest person on the show. So last year, we had a young boy episode, he was paired with [Reese]."

However, with Shahi (along with Amy Acker) being a full-time regular on Person of Interest Season 3, how will we see the trigger-happy Shaw deal with someone of this age?

"The girl spends more time with Shaw this time because the episode is also about how would a little girl grow up to be a woman like Shaw?" Emerson teased. "Then, what will this little girl, that's in Shaw's life, what will she grow up to be like? Are women, like men, fated in some way, to become certain kinds of adults?"

It's exactly the fact that this isn't just a Person of Interest case of the week that will reveal more about Shaw than ever before. "The big thing in this episode," Shahi told me, "is we get to see Shaw as a six-year-old little girl and there are some good flashbacks and we get to find out how the machine that's inside of her, how that was all built, how that was made."

Are you excited for this week's Person of Interest episode? Are you glad to learn more about Shaw? Visit TV Fanatic soon after it ends for a full recap and review.


Jim Halterman is the West Coast Editor of TV Fanatic and the owner of JimHalterman.com. Follow him on Twitter.

Tags: Person of Interest, Spoilers, Interviews, Michael Emerson, Exclusives